And like the rest of our altered food supplies, labeling won't be required.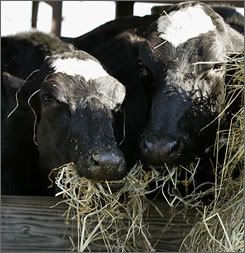 The Food and Drug Administration has concluded that milk and meat from cloned animals, such as these cows, should be allowed on the market. That stance has raised a debate over whether food from clones that are raised organically could still carry the organic label.
(PRNewsFoto/ViaGen)
Reuters reports:
While the science appears to have come down on the side of the cloning industry, the technology remains controversial, even within the agriculture industry.

Some dairy firms oppose cloning, betting that consumers will shun goods they see linked to cloning technology.

Others believe that more investigation is needed to conclude cloning is safe -- especially after a year in which consumer confidence was marred by numerous food scares -- or oppose it on moral or religious grounds.
"Despite widespread public disapproval, FDA is not planning to require labeling of The U.S. Food and Drug Administration has ruled food from certain cloned animals and their offspring is as safe as other food, opening the door to using the controversial technology in the U.S. food supply.

The FDA confirmed preliminary findings in a final risk assessment on cloning on Tuesday.

"Extensive evaluation of the available data has not identified any subtle hazards that might indicate food consumption risks in healthy clones of cattle, swine or goats," the agency wrote.

The FDA said it did not have enough information, however, to make the same assertion about cloned sheep.

The FDA ruling is the latest twist after years of debate over the reproductive technology, which advocates say will provide consumers with top-quality food by replicating prized animals that can breed highly productive offspring.

The cloning industry, made up so far of only a handful of firms, expects that it will be the offspring of cloned animals, not the costly clones themselves, that would eventually provide meat or milk to U.S. consumers.

There are currently about 570 cloned animals in the United States, but the livestock industry has so far followed a voluntary ban on marketing food from the animals.

It could take four or five years before consumers are able to buy products derived from cloned animals.

products from cloned animals, keeping already wary consumers in the dark," Food and Water Watch, an advocacy group, said in a statement.

Greg Jaffe, director of biotechnology at the Center for Science in the Public Interest, says the cloning industry must now convince the public why cloning is useful.

"Just because the technology is safe, it doesn't mean that as a society there is reason to embrace it," he said.

Jaffe expects Congress or some states may try to impose additional restrictions on marketing or labeling.

The Senate has passed a bill, which must be merged with a House bill and approved by the president, that would delay FDA approval until after more studies are completed.

Several major food companies quickly stated that they are not signing up, at least right away. Tyson Foods Inc, the largest U.S. meat producer, said on Tuesday it has no immediate plans to buy cloned livestock.

The FDA cloning decision comes as biotechnology becomes an ever more important part of global agriculture.

Last week, the European Food Safety Authority made an interim ruling about food from cloned animals and their offspring, saying it was unlikely there was any difference from food derived from traditionally bred animals.
Meanwhile, the BBC reports on the other side of the Atlantic Ocean:
An influential Italian farmers' union has threatened to challenge an EU report that says products from cloned animals are probably safe.

The European Food Safety Authority (EFSA) says it is "very unlikely" that such food is any different from that from conventionally bred animals.

But the Italian farmers' group Coldiretti believes cloned foods would pose an "unacceptable risk".
The Washington Post reports that consumer groups object to FDA approval of cloned food:
Reaction from consumer groups was quick and largely negative today as word spread that the Food and Drug Administration had concluded that milk and meat from cloned farm animals is safe to eat.

The agency's final report, to be released today, makes it likely that food from clones and their offspring will start making its way into the food supply over the next few years.

But opponents, and in particular people and organizations concerned about the health and welfare of cloned animals, raised objections immediately.

"Despite the fact that cloned animals suffer high mortality rates and those who survive are often plagued with birth defects and diseases, the FDA did not give adequate consideration to the welfare of these animals or their surrogate mothers in its deliberations," said Wayne Pacelle, president and CEO of the Humane Society of the United States. "Furthermore, no regulations exist in the United States that protect farm animals during cloning research."

"The Food and Drug Administration's decision to allow the sale of meat and milk from cloned animals leaves consumers at risk and releases another questionable technology into the food supply," added Patty Lovera of Food & Water Watch, a nonprofit consumer rights organization.

The long-awaited FDA report concludes that foods from healthy cloned animals and their offspring are as safe as those from ordinary animals, effectively removing the last U.S. regulatory barrier to the marketing of meat and milk from cloned cattle, pigs and goats.

The 968-page "final risk assessment," finds no evidence to support opponents' concerns that food from clones may harbor hidden risks.

But, recognizing that a majority of consumers are wary of food from clones -- and that cloning could undermine the wholesome image of American milk and meat -- the agency report includes hundreds of pages of raw data so that others can see how it came to its conclusions.

The report also acknowledges that human health concerns are not the only issues raised by the emergence of cloned farm animals.

"Moral, religious and ethical concerns . . . have been raised," the agency notes in a document accompanying the report. But the risk assessment is "strictly a science-based evaluation," it reports, because the agency is not authorized by law to consider those issues.

In practice, it will be years before foods from clones make their way to store shelves in appreciable quantities, in part because the clones themselves are too valuable to slaughter or milk. Instead, the pricey animals -- replicas of some of the finest farm animals ever born -- will be used primarily as breeding stock to create what proponents say will be a new generation of superior farm animals.

When food from those animals hits the market, the public may yet have its say. FDA officials have said they do not expect to require food from clones to be labeled as such, but they may allow foods from ordinary animals to be labeled as not from clones.
The concern that eating products from such animals may be unsafe is not unfounded:


The original cloned animal, Dolly. Suffering from an incurable lung disease, she was euthanized at an early age. She is seen here stuffed and displayed at the National Museums of Scotland

.
Photo: Trustees of National Museums Scotland

Clones not only don't live as long, but they contract diseases not seen in the 'parent'. There clearly are differences between the original and the clone, and the consumption of clones can't be declared as 'safe' simply because scientists haven't identified any problems in the short term. The only testing that has been done has been on the animals; not on humans who have eaten clones. Without bans or any regulations at all, there is nothing to prevent the industry from introducing cloned products into the food chain without notifying consumers. Currently under consideration is a public relations campaign to "educate" to raise the consumer's "comfort level" (lull the consumer into acquiescence).

Bloomberg reports:
Registering Clones

The major producers of cloned animals, ViaGen Inc. and Trans Ova Genetics, have pledged to register all of their livestock clones so food manufacturers can exclude the animals if they choose, though the program won't apply to the natural-born offspring of replicated animals. Testing for this link is impossible, and it shouldn't make consumers wary of eating meat and dairy products, ViaGen Chief Executive Officer Mark Walton said in a Dec. 19 phone interview.

``If you were to go ask a consumer today if they were concerned about offspring, they would say `Of course I am,''' Walton said. ``When you educate and provide the information and help them understand that progeny and offspring are not cloned, the comfort level goes way, way up.''

Industry groups, including the American Meat Institute, the National Milk Producers Federation, the Grocery Manufacturers Association and the Food Marketing Institute, have said they support registering clones as a way to ease public queasiness.

650 Live Clones

There are now an estimated 650 live clones in the U.S., mostly cattle produced by Austin, Texas-based ViaGen and Trans Ova, of Sioux Center, Iowa. The companies charge about $13,500 to copy a cow, and they expect the clones to be used exclusively for breeding bigger, stronger and perhaps tastier herds.

Cloning allows ranchers to replicate a prize-winning animal or replace one that is injured or aging. About 80 percent of ViaGen's animals so far have gone into the entertainment business as rodeo horses, bucking bulls and show cows. The rest went to ranchers betting the FDA would repeal the voluntary moratorium on sale of food from clones and their offspring.

Senator Barbara A. Mikulski, a Maryland Democrat who has raised objections to cloned food, sent a letter in December to FDA Commissioner Andrew von Eschenbach telling him not to ``pull a fast one'' by acting on cloned foods without conducting additional studies sought by lawmakers.

The Senate included an amendment that would have required more study of cloning in a $286 billion farm bill that awaits negotiation with the House. Congress earlier added language urging the FDA to delay action in an omnibus spending measure signed by President George W. Bush.

The Center for Food Safety has also challenged the agency's review of the scientific data supporting cloned food. The FDA relied on incomplete evidence and misrepresented its findings, the Washington-based consumer group said in a 32-page critique submitted among the public comments.

Call for Hearings

``Congress should hold hearings on the animal-welfare, ethical, and environmental implications of cloning,'' said Gregory Jaffe, director of biotechnology for the Center for Science in the Public Interest, in Washington, in an e-mail today. ``FDA is charged with assessing the safety issues surrounding animal cloning. It is not the agency's job to address other objections that make cloned animals controversial.''
It looks as if we will be unsuspecting guinea pigs.