Protestors outside the gates: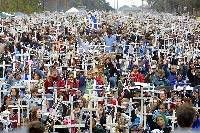 I would guess that most Americans have never heard of the School of the Americas and have no idea what it is, its history or its mission.
Why they hate us is only a secret to the American people
:
Several Fond du Lac residents, including members of the Congregation of the Sisters of St. Agnes, traveled to Fort Benning, Ga., to protest the existence of the Western Hemisphere Institute for Security Cooperation (WHINSEC).

Formerly known as the School of the Americas, the institute is chartered by the U.S. Congress and provides professional education and training for civilian, military and law enforcement students from nations throughout the Western Hemisphere.



Protesters, including Stella Storch, peace and justice coordinator for the Congregation in Fond du Lac, believe the institute has trained assassins who terrorize citizens in Latin America.

Storch said this year's event on Nov. 18 and 19 drew up to 22,000 people who participated in a massive funeral event led by Latin American torture survivors and social justice movement leaders. A total of 13 people crossed the line onto Fort Benning property and were arrested for trespassing.

Sister Caryl Hartjes, who made the trip again this year, served a three-month federal prison sentence in 2003 for participating in civil disobedience on a military base.

Making the trip this year for the first time were Jill Stiemsma and Sister Ruth Battaglia.

Steimsma said that while she was there, the community of Fort Benning, along with military personnel, staged their own counter rally.

"I think it is a terribly important issue most people aren't aware of," Stiemsma said. "It was really wonderful to be around like-minded people who believe we need to make more ethical decisions on how we treat other countries."

Battalglia said the overwhelming moment for her was when someone read the names of all the people who are said to have died at the hands of military personnel that were trained at the School of the Americas.

"That was so sobering," she said.

Despite documented human rights abuses, which include massacres and assassinations by SOA-trained soldiers, and ignoring the Pentagon admission of torture-training manuals used at the Army school, the current commandant of WHINSEC, Colonel Perez, claims "There were no abuses. We have never taught torture. We have never taught overthrow of legitimate governments. There is no correction to be made."

Apparently, Perez lies as easily as he draws breath.


Learn about the assassins' school branches in Haiti, El Salvador, and elsewhere.

Filed under: El Salvador, Haiti, war in Iraq, war on terror, torture, Western Hemisphere Institute for Security Cooperation, assassins school, news, media, protest, Georgia, Fort Benning, Colonel Gilberto Perez, School of the Americas, WHINSEC, The Constant American, Constant American, Technorati Tag, Technorati Tags, tags, categories