"Every great work of art goes through messy phases while it is in transition. Iraq is a 'Work of Art' in Progress" says U.S. General
:
[On a day in which 49 people were killed or found dead around the country,] . . . a senior U.S. general compared Iraq on Thursday to a "work of art" in progress, saying it was too soon to judge the outcome and playing down violence and friction with Iraqi leaders as "speed bumps" on the road.

"A lump of clay can become a sculpture, blobs of paint become paintings which inspire," Major General William Caldwell, chief military spokesman, told his weekly Baghdad news briefing.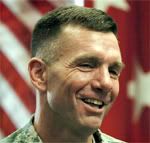 Major General William Caldwell
Perhaps you may remember art connosseiur General Caldwell from his previous 'lectures' from Iraq: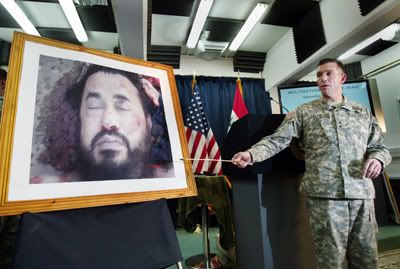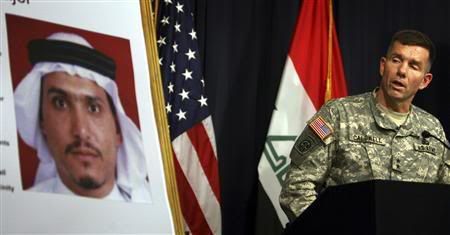 Slap a gold frame around Iraq, and it'll be a 'work of art'.
Three-and-a-half years after the U.S.-led invasion, President George W. Bush is under intense pressure over his Iraq policy ahead of next week's Congressional elections where polls show he could lose control of both houses halfway through his second term in office.

Rising U.S. casualties and spiraling sectarian violence and insurgent attacks that kill hundreds of Iraqi civilians every week have sparked heated debate in the United States over whether Iraq is descending into civil war.

"Every great work of art goes through messy phases while it is in transition," Caldwell said.

Last week Prime Minister Nuri al-Maliki blamed the U.S.-led forces for poor security and aides said he was angered by perceived pressure from Washington to accept U.S. "timelines" for progress that would allow U.S. troops to leave.

He also criticized a U.S. raid in a Shi'ite area and on Tuesday ordered U.S. checkpoints that were installed in Baghdad as part of the hunt for a missing U.S. soldier to be dismantled.

Caldwell played down friction between U.S. and Iraqi officials, saying "miscommunications" were an inevitable part of the transition process as Iraqis take over responsibility:

"The transition is not always a pleasant thing to watch as it happens but when common goals are achieved, speed bumps and differences of opinion along the way are soon forgotten."

He said violence had decreased sharply in the past week after a surge during the month of Ramadan, and sectarian killings had fallen 41 percent in Baghdad in the past week.

"Last week casualties did decrease with a nationwide drop of approximately 23 percent," he said, adding that it was too early to call it a trend. "Over the last four weeks, casualties were higher than in the months of August and September."

The Associated Press counted 1,272 reported Iraqi deaths last month alone.

The News Hour with Jim Lehrer reports:

The president of Iraq called today for U.S. troops to stay several more years. He said Iraqis need that time to defeat international terrorists.

Jalal Talabani spoke in Paris, where he met with French President Chirac. He said Iraq is not asking for unlimited time.

Instead, he said, "Two to three years will be enough to build up our forces and say to our American friends, 'Bye-bye, with thanks.'" Last week, the U.S. commander in Iraq, Army General George Casey, suggested Iraqis would be able to take over in 12 to 18 months.

In the latest violence in Iraq, police reported nearly 50 Iraqis were killed or found dead. The worst attack was a motorcycle bomb that blew up in a Baghdad market. At least seven Iraqis died; 45 were wounded there. It happened in the heavily Shiite district known as Sadr City.

Also today, an official in the interior ministry reported at least 119 Iraqi policemen were killed in October.

And the U.S. military reported one more American death, raising the total for the month to 106.

If I had a nickel for every time General Casey has said that the Iraqis will be able to take over their own security in "12 to 18 months" since the Bush "Mission Accomplished" tour in 2003.

But the Times newspaper Tuesday quoted unnamed high-ranking US soldiers and officials saying that the Iraqi police force would be unlikely to be ready to take over security within 12 months


Qatar's Peninsula On-line reports:

US military spokesman Major General William Caldwell said 18,790 soldiers will be recruited as per the "new force structure that the prime minister has just announced".

He said plans are to have 20 new batallions and one special force batallion, creating new division, brigade and batallion headquarters.

Caldwell said that 12,000 soldiers will be recruited separately to maintain "110 per cent availability of troops" at any time.

He said a further 18,000 soldiers would also be hired as replacements for those who leave the army or are killed [Or have been fired for being members of Iraqi death squads]. There are currently 115,000 troops in Iraq's ground forces.

Newsweek reports:

"All vacations will be canceled and all those who are on vacation must return."

Iraqi Defense Minister Abdul-Qader al-Obeidi, ordering all Iraqi troops back to duty to prepare for expected violence after a verdict in the trial of Saddam Hussein.

Vacation (is that what they're calling 'AWOL' over in Iraq?). Heh.

Filed under: 12 to 18 months, Iraqi recruits, William Caldwell, war in Iraq, Bush, The Constant American, Constant American, Technorati Tag, Technorati Tags, tags, categories