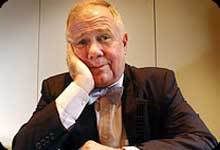 Legendary investor Jim Rogers has made a decision to quit the dollar and shift his investments into currencies including China's yuan.
The 65-year-old Rogers said he placed great trust in the Chinese yuan alongside the Japanese yen and the Swiss franc since the US economy was "in recession":
"I live in Asia. It is really not that strange that I am selling out of the US dollar," Rogers told The Daily Telegraph.

"The US economy is undoubtedly in recession," he added. "Many parts of industry are actually in a state worse than recession. If it were not for [Federal Reserve Governor Ben] Bernanke putting huge amounts of money into the market, the stock market would probably be down much more than it is."

Expressing satisfaction with the Shanghai Composite Index closing at 5843 points, Rogers said, "I do not want to sell Chinese stocks. I want to own them forever and I want my daughter to own them."

Rogers ranks among the world's best-known investment figures.