A previously unrecorded Faberge egg valued at up to $18 million is going up for sale next month, Christie's auction house said Thursday.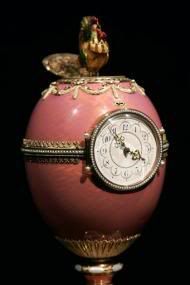 The Associated Press reports:
The pink enamel-and-gold egg is one of only a dozen designed to the highest standards for clients other than Russia's ruling family. It has been in the Rothschild banking family since 1902, when it was given as an engagement present.


The egg contains a diamond-set cockerel which pops up every hour and flaps its wings, nods its head and opens and closes its beak.

It will go on sale Nov. 28 at Christie's in London, where it is expected to fetch $12 million to $18 million. If it reaches the top price, it will break the existing record for a Russian artwork, the US$9.6 million paid for a Faberge egg in New York in April 2002.

"The discovery of this masterpiece is the most exciting of my 40-year career," said Anthony Philips, International Director of Silver and Russian Works of Art at Christie's. "Although few examples exist, The Faberge egg is known around the world as one of the most impressive and exclusive works of art ever made."

Craftsmen Peter Carl Faberge created more than 50 of the eggs for Russia's imperial family, though not all survive. Czar Alexander III commissioned the first as an anniversary present for his wife, Empress Maria Fedorovna, on Easter Day 1885. The Empress was so enamored of the enameled egg, with a golden yoke, golden hen, miniature diamond crown and ruby egg inside, that the czar ordered that a unique egg be made for her every Easter Day after.

After the Czar died unexpectedly in 1894, his son Nicholas continued the tradition until the Russian Revolution in 1917. Nicholas and his family were executed on July 17, 1918.

After the revolution, the communist government sold off many of Faberge's creations, which found their way into Western collections.

The Rothschild egg was presented as an engagement gift to Edouard de Rothschild and Germaine Halphen, who married in 1905, by Edouard's sister Beatrice Ephrussi.