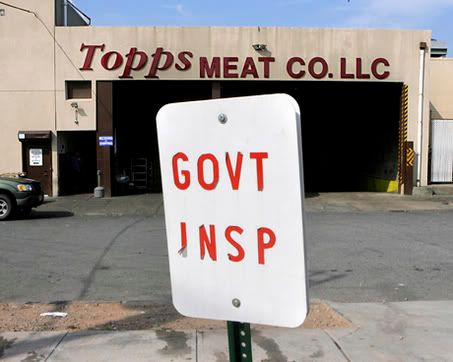 There probably exists no better example of why Republicans (as well as the Democrats who sign on with them), with their pro-business, anti-populist, deregulation schemes and anti-tax policies, are bad for America.
NJ.com reports:
Topps Meat Co. of Elizabeth, which is involved in the second-largest beef recall in U.S. history, said today it is going out of business after more than six decades

The company announced last month it would recall more than 21.7 million pounds of ground beef products because consumers in several states became ill from E. coli bacteria, which was detected in some of the frozen hamburger patties made at the Elizabeth plant.

The company said 77 workers have been laid off and a skeleton crew of about 10 people remain at the meat grinding factory, which had been in operation for 67 years.

Scott Lituchy/The Star-LedgerWorkers who were laid off console each other outside Topps Meat Co.

"'This is tragic for all concerned," said Anthony D'Urso, chief operating officer. "In one week we have gone from the largest U.S. manufacturer of frozen hamburgers to a company that cannot overcome the economic reality of a recall this large. We sincerely regret the impact this will have on our employees, our customers and suppliers, and the community. Most of all, we regret that our products have been linked by public health agencies to recently reported illnesses. We hope and pray for the full recovery of those individuals."

The skeleton crew of workers will remain at the Elizabeth plant to assist U.S. Department of Agriculture officials in their ongoing investigation of the tainted beef recall. USDA officials said yesterday the company had to recall a year's worth of beef product because of improper documentation.

Scott Lituchy/The Star-LedgerAs worker sits in her car and cries after Topps Meat Co. closes down and lays off 77 people today.

"We want to thank our loyal employees and customers who have supported us throughout the 67 years in which Topps Meat has been in business," D'Urso said. "Topps has always prided itself on providing the utmost quality and safety and never had a recall in our history until now. This has been a shocking and sobering experience for everyone."

Topps Meat was founded in 1940 and is a leading manufacturer and supplier of frozen hamburgers and fresh cut steaks.
Voluntary regulation, trusting Big Business to do the right thing because it's the right thing to do
just doesn't work.