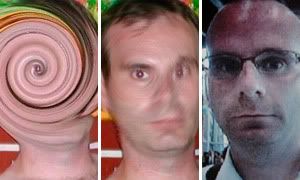 A composite picture of the suspected paedophile Christopher Paul Neil taken from the Interpol website. Photograph: Handout/Reuters
The Guardian reports:
A suspected paedophile pictured on websites sexually abusing young boys has been identified as a 32-year-old Canadian, it emerged today.

Thai police named him as Christopher Paul Neil and believe he is on the run in Thailand, after German computer experts rebuilt his digitally altered image.

The English language teacher was identified following an Interpol appeal after a man was shown in more than 200 internet photos abusing boys in Vietnam and Cambodia.

Interpol said he was thought to be on the run in Thailand, where security cameras documented his arrival at Thai immigration last Thursday. He had apparently been working as an English language teacher in South Korea.

"We believe he is still in Thailand and we are now collecting information from neighbouring countries where he committed crimes of paedophilia so we can issue an arrest warrant for him," said Colonel Apichart Suribunya of the Thai police.

Police have been hunting the man for three years, ever since German police found online pictures of him abusing under-age Asian boys.

The suspect was allegedly shown sexually abusing 12 young Vietnamese and Cambodian boys, apparently ranging in age from six to their early teens.

The man's face was initially disguised behind a digitalised swirl but German police managed to rebuild an image of him and released four reconstructed photos last week.

Interpol said that more than 350 people supplied information to authorities worldwide following the appeal. Officials are still collecting and analysing evidence to bring charges if the suspect is arrested, it said.

The suspect's name, nationality, date of birth, passport number, and current and previous places of work have been established, Interpol said.

"Thailand is at the centre of an international manhunt, and authorities in the country, in cooperation with Interpol and police around the world, are hunting him down," the Interpol secretary general, Ronald Noble, said yesterday.

Cambodian police alerted border authorities to look out for the suspect after a request from Interpol.

"We have issued the alert in case that person tries to enter Cambodia through any of the international checkpoints on Cambodia-Thai borders," said Keo Vanthan, a senior police official in charge of Cambodia's Interpol division.

He said police were investigating whether the suspect had previously entered Cambodia.

The case marks Thailand's latest high-profile paedophile manhunt.

John Mark Karr, who confessed to killing six-year-old American beauty queen JonBenet Ramsey was arrested in Bangkok last year, only to be freed for lack of corroborating evidence. He taught English at several schools in Bangkok.