Security Relaxed At Obama Rally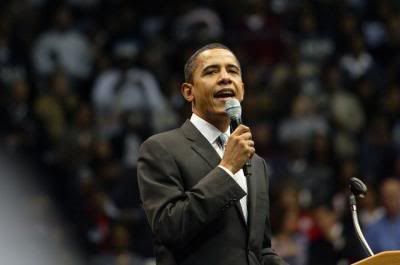 Democratic Presidential candidate Sen. Barack Obama (D-IL) speaks to supporters during a campaign rally at Reunion Arena in Dallas on February 20, 2008. More than 17,000 people filled the building for a chance to see the Illinois senator on his first public appearance in Dallas since announcing his presidential candidacy.
(UPI Photo/Robert Hughes)
The
Star-Telegram reports
:
The Secret Service told Dallas police to stop screening for weapons while people were still arriving at a campaign rally for Barack Obama, a report said.
Police stopped checking people for weapons at the front gates of Reunion Arena more than an hour before the Democratic presidential hopeful appeared on stage Wednesday, the Fort Worth (Texas) Star-Telegram reported.
Police said the order to stop using metal detectors and checking purses and laptop bags constituted a security lapse, the newspaper reported.


Dallas Deputy Police Chief T.W. Lawrence -- who heads the department's homeland security and special operations divisions -- told the Star-Telegram the order had been intended to speed up seating of the more than 17,000 people who came to hear the candidate speak.

Lawrence said he was concerned about the large number of people being let in without being screened, but that the crowd seemed "friendly," the newspaper said.

Several Dallas police officers -- speaking on condition of anonymity because the order came from federal officers -- told the newspaper it was worrying to see so many people get it without even a cursory inspection.

The Star-Telegram said the Secret Service did not return a call seeking comment.