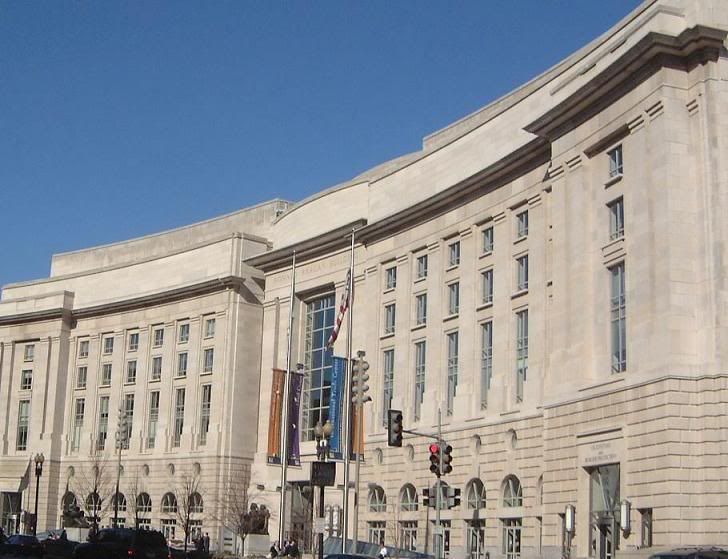 The secret dinner with Obama you haven't heard about
From
ForeignPolicy.com
:
At a quiet dinner meeting late last week in Washington's Ronald Reagan Building, President-elect Obama reached out to outside foreign-policy experts, trying to resist the presidential bubble that is rapidly closing around him.

Late afternoon last Thursday Jan.8, scholars and staff at the Woodrow Wilson International Center for Scholars noticed an unusual upgrade in the security of the top floors of their building, which also houses USAID, the EPA, a public food court, and some foreign television stations. The Wilson Center hosts high-level people all the time, but this security detail was of a different order, sources said.

And indeed, some suspected that Obama was coming to dine in the 8th-floor offices of Lee Hamilton, the quasi-governmental think tank's president -- a hunch they confirmed the next day.

Hamilton, the longtime House member from Indiana who cochaired the Iraq Study Group, the 9/11 Commission, and numerous others over the years, has become a kind of wise-man mentor to Obama. Last Thursday, the Wilson Center president assembled a small collection of scholars on the Middle East and South Asia for a meeting that stretched through dinner for hours into the night.

Among those who attended the off-the-record dinner: Iran scholar Haleh Esfandiari; Pakistani journalist Ahmed Rashid (who had flown in from Lahore); Obama friend and foreign-policy advisor Samantha Power of Harvard University (who accompanied PEOTUS to the meeting); incoming White House chief of staff Rahm Emanuel; and a few others. Obama told the group, none of whom reached would discuss the details, that he already felt in the bubble and was trying his best to meet with independent experts.

Scholars at the center noted the group leaned toward experts on the Middle East and South Asia. "They talked mostly about what was going on in the world, from Gaza to the financial crisis and its implications," one source summarized.

"It's clear from the nine or 10 people included that the meeting was mostly focused on Middle East issues," said one scholar who witnessed the security goings-on but did not attend the meeting. "It's part of the process that I think Obama wants to do to connect" given the demise of his Blackberry. "It was held here [at the Wilson Center], but from now on, I suspect such things will be held at the White House."

Contacted about the meeting, Wilson Center Middle East scholar Aaron David Miller declined to comment, saying he couldn't help on this one. Esfandiari, who was imprisoned last year by the Iranian regime, directed questions about the meeting to the Wilson Center's press officer. An executive assistant to Hamilton said her boss was getting on a plane in California to fly back to Washington, and couldn't be reached today.

A source close to Hamilton explained that he had a long relationship with Obama, and noted that many former Hamilton staffers had gone on to be key staffers and foreign policy advisors to Obama.

Among them: Obama speechwriter Ben Rhodes, who wrote speeches and was a policy advisor for Hamilton for several years; Obama's top foreign-policy advisor Denis McDonough; who worked for Hamilton on the staff of the House International Relations Committee, Obama Mideast advisor Daniel Shapiro, who worked for Hamilton as his professional staff member on the Middle East when Hamilton was chairman of the then-House Foreign Affairs Committee in the 103rd Congress (1993-94); Dan Restrepo, a top Obama Latin America advisor now with the Center for American Progress who worked for Hamilton on the Hill; and Mara Rudman, who worked for Hamilton on the Hill and is now a member of the formal Obama transition team.

"Ben Rhodes (the [President-Elect's] national security speechwriter) and I both are very close to Lee," McDonough said in an e-mail. "Ben wrote for Lee for a couple years, through the 9-11 Commission and the Iraq Study Group. Lee has been an indispensable ally to the P-E, offering wise counsel and hosting the P-E for discussions and a couple speeches during the campaign. He is a frequent sounding board for the P-E and the team."

"From what I understand, the president-elect wants to be able to have access to different ideas and opinions," said one Wilson Center associate. "What better person than Lee [Hamilton]? ... Lee was always tasked whenever there was anything to do with ethics. For instance, Iran-contra" [Hamilton was one of congressional chairs of Iran contra investigation]. "They went to Lee because he has the ability to transcend party lines. ... He's very congenial, very decent, he's willing to listen to everybody, ... he treats everybody with dignity and respect. And that comes through. He listens. He assesses. And that is what Hamilton said he likes about Senator Obama. Obama listens. He goes around the table. Lee has been in numerous meetings with him, and Obama listens to what people have to say. Hamilton has a great deal of respect for him."

The source said that Obama and Hamilton have met several times and that Hamilton's former law partner in Chicago early on introduced the Wilson Center president to this "amazing" young Obama years ago, long before Obama entered national politics.

Noting that Hamilton was the longtime chair in the 1990s of the House International Relations committee, one Hill source said, "Hamilton had access to the 'best and the brightest.' It's not a surprise that Obama is drawing on people from that staff.

"The more interesting point to me," the Hill source added, "Is that it shows that since Obama came onto the national scene in 2004, Obama seeks out these older, moderate members of the establishment. And seeks to curry their favor. It's been documented how he's done so with [Sen. Richard] Lugar [R-Indiana]. He seems to have done the same thing with Hamilton."

Also of note: the significance of Obama bringing Samantha Power along to the meeting. A veteran Washington foreign-policy hand says Power is likely to get a job in the Obama administration, probably in the NSC, but would not divulge what position. (Power's husband Cass Sunstein was named last week to be administrator of the Office of Information and Regulatory Affairs within the Office of Management and Budget.) Power did not respond to an e-mail query.