Wisconsin Man Spears a 6-Foot Sturgeon:
The fish's long shadow slid under the ice, causing Darren Horness to blink. "I was skimming some ice off the hole, and all the sudden I thought I caught a little bit of movement, and I had to kind of take a step back," said Horness, 36, of Howards Grove. "The fish was actually coming up into the hole, I just could see part of it and could tell it was a kind of a nice fish, but I had no idea how big it really was."

The 102-pound, 72-inch sturgeon was nearly as long as he was tall.

He had cut a hole through the 16 inches of ice on Lake Winnebago, and the sturgeon arched through it, coming within six inches of the surface. Horness heard the fish's back scrape the ice on the bottom edge of the hole.

"I had to get down on my knees and I had to spear almost horizontal because it was so high up into the hole," he said. "I didn't know how good of a hit that I had on it because it was such a weird throw."

The spear lodged in the fish's tail, about two feet from the end. Within minutes, the female was tiring and had moved close enough to the surface for Horness to see what he'd caught.

"My knees just almost buckled because it looked so humongous in the water," he said.
It's Westminster Kennel Club Show Time Again
: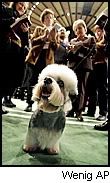 Bill Cosby's Dandie Dinmont, Fineus Fogg, goes for Best in Show:
The Westminster Kennel Club competition is threatening to turn into the Cosby show.

It's no joke - comedian Bill Cosby's terrier could win Best in Show at the prestigious competition in Madison Square Garden.

Fineus Fogg, the contest's only Dandie Dinmont terrier, was awarded Best in Breed and Best in Category yesterday, qualifying him to compete against six other finalists for the grand title tonight.

"They were all beautiful dogs out there," Cosby's daughter Erinn Cosby told The Associated Press, "but there was only one."

Cosby wasn't there last night; the dog's handler said the star thinks he has bad luck, and didn't want it to rub off on Fineus Fogg, rated as the country's top dog.

But now that the dog, also known as Harry, has won, all bets are off.

I bet 'Harry' is Camille's dog:

Camille (Mrs. Bill) Cosby
The story of 'Fat Cat' 'Goliath' 'Hercules':
For four years the pudgy kitty was Earnest's constant companion. Earnest, 31, has cystic fibrosis, a genetic disorder that affects the mucus lining of the lungs and leads to breathing problems. In June, Earnest flew to Seattle for a rare double-lung transplant at the University of Washington Medical Center. A housesitter watched Hercules, but the cat disappeared and Earnest assumed his beloved pet was dead.

But Hercules, it turned out, was alive and well -- so well that last month he sneaked into a stranger's garage, snacked on food and got his ample frame stuck exiting through a doggie door. He landed at the Oregon Humane Society, which alerted reporters to the cat's escapades. His story was picked up by reporters, was aired on local television news and eventually spread worldwide.

One night in early January, while watching television, Earnest saw the fat cat's mug flash on the screen during a newscast.

That looks like Hercules, he thought.

Indeed it was.

These days, Earnest speaks to schools and community groups about twice a week, and sometimes his famous cat tags along. Earnest -- told at age 29 that he would die without a lung transplant -- talks about his own experience as an organ transplant recipient and encourages others to become organ donors.

In his talks, he's always sure to mention Hercules.

The way Earnest sees it, he and his cat have something in common.

"He came back from the dead like I did," he said.

Most days, Hercules can be found resting, more like dozing, on a towel draped on Earnest's bed or footrest. Every morning, Earnest puts his cat on a leash, and the pair head into the neighborhood for exercise.

Since Hercules has returned home, he's been placed on a diet. So far, he's lost about a pound, slimming down to a still-rotund 19.6 pounds. (According to his veterinarian, Dr. Joshua Horner, Hercules could stand to lose another three or four.)

Hercules may look, well, how to sensitively put this, big boned to the rest of us, but to Earnest he's perfect.

"He's just a big, big cat," he said. "I don't want to see him get any smaller."
Earnest and Hercules, Reunited.


American Cat Idol, anyone?: