9/11 Health Costs $393 Million Per Year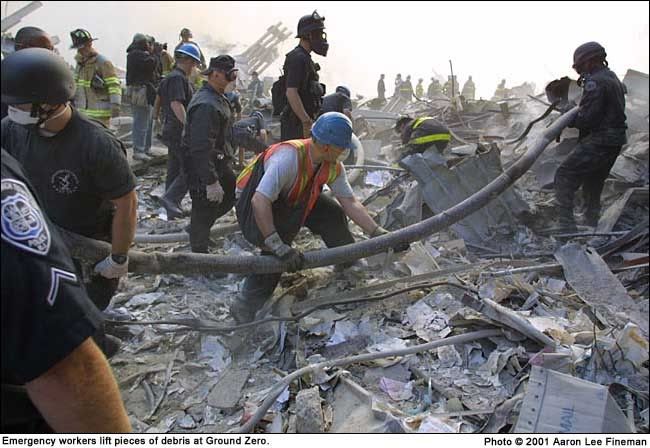 Associated Press reports
:
Respiratory ailments, mental trauma and other problems that arose after the Sept. 11 attacks are costing the U.S. health care system $393 million per year, according to an analysis that city officials released Tuesday.

The estimate was part of a report by a panel that Mayor Michael Bloomberg convened last year to study Sept. 11 health effects and treatment programs, which are said to be running out of funding 5 1/2 years after the attacks.

Some of the people who worked amid the dust, smoke and ash at the site have died. Others have developed conditions including respiratory problems, anxiety, depression and post-traumatic stress disorder, and the report noted the troubling prospect of later-emerging diseases including cancer and pulmonary fibrosis.

The panel noted the liability fight as another mounting expense. At least 6,000 federal lawsuits have been filed by emergency workers who aided in the rescue operation and nine-month cleanup, alleging that the city and its contractors were negligent in monitoring the air.

Thousands more lawsuits are expected, and the city already has spent millions fighting the claims. That money has come from the WTC Captive Insurance Co., which Congress funded with $1 billion in 2004 to provide liability coverage against claims.

Instead of using the money in court, the mayor's panel recommended that Congress change the law to let the city put the money into a compensation program for sick workers, an idea that members of New York's delegation have already floated.

"We're not about to abandon the men and women who helped lift our city back onto its feet during our time of greatest need," Bloomberg said. "They deserve first-class care without exception, and we will work to ensure that they get it."

The fund would be similar to the victims compensation fund that awarded $7 billion to the families of those who died in the attacks and to injured survivors. The application deadline for that fund was December 2003, which excluded those whose diagnoses or symptoms came later.

The Bush administration last month announced a proposal to spend at least $25 million more on treatment programs. Sen. Hillary Rodham Clinton, D-N.Y., is calling for $1.9 billion over several years.

Several sick workers said Tuesday they were frustrated that it was taking so long to ensure health care.

"When I got called to the World Trade Center, it did not take me five years to get there -- it shouldn't have taken five years to talk about compensation," said Marvin Bethea, a paramedic who survived the collapse of the twin towers and suffers from afflictions including post-traumatic stress disorder and asthma. "People don't want to be millionaires. They're in the hole because of all these health problems."