U.S. Military & Iraq Security Fail To Stop Daily Massacres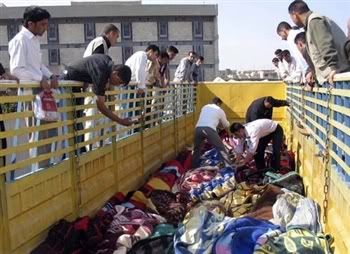 Bodies of shooting victims are placed in a truck after they were claimed from a hospital morgue in Mosul, 390 km (240miles) northwest of Baghdad, March 29, 2007. Gunmen rampaged through a Sunni district in the northwestern Iraqi town of Tal Afar overnight, killing more than 50 people in apparent reprisal for bombings in a Shi'ite area, Iraqi officials said on Wednesday.
So much for Bush's argument that Iraq will turn into a bloodbath if the U.S. pulls troops out. It already
is
a bloodbath.