Not 24-hours after Bush and Cheney's condemnation of Nancy Pelosi's trip to Syria (along with every rightwing media outlet), "U.S. Congressman Darrell Issa meets Syrian president in Damascus."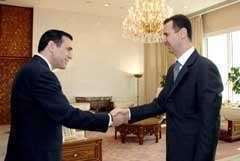 Congressman Darrell Issa (R-CA) shakes the hand of Bashar Assad, President of Syria, which is on the U.S. State Department's list of nations that sanction state-sponsored terrorism
On Rush Limbaugh's program today (
from the transcript up on the White House website
),
Dick Cheney said, "In this particular case, by going to Damascus at this stage, it serves to reinforce, if you will, and reward Bashir Assad for his bad behavior."
The Associated Press reports
:
A U.S. Republican congressman met President Bashar Assad on Thursday, a day after a visit by House Speaker Nancy Pelosi, spurning the White House policy of isolating the Syrian leadership.

Congressman Darrell Issa of California said U.S. President George W. Bush had failed to promote the dialogue that is necessary to resolve disagreements between the United States and Syria.
"That's an important message to realize: We have tensions, but we have two functioning embassies," Issa told reporters after separate meetings with Assad and Syrian Foreign Minister Walid al-Moallem.

President Bush has rejected direct talks with Syria, saying others have tried the tactic but without result. White House spokesman Gordon Johndroe said Thursday the administration had a clear line on Congress members — Democrat or Republican — going to Syria.

"We do not think it's productive; we do not think it is useful," Johndroe said, adding that such visits "only makes (the Syrians) feel validated."

Washington accuses Syria of backing Hamas and Hezbollah, two groups it deems terrorist organizations. The Bush administration also says Syria is contributing to the violence in Iraq by allowing Sunni insurgents to operate from its territory and is destabilizing Lebanon's government. Syria rejects the charges.

Issa, a Lebanese-American who frequently travels to the Middle East, said he and other members of Congress would continue to encourage the Bush administration to engage Syria.

"I have no illusions. We have serious problems to be resolved but we will resolve them," he said.

Assad and Issa discussed "the mechanisms and means that must be available to build a solid U.S.-Syrian relationship," the official Syrian Arab News Agency reported.

Foreign Minister al-Moallem stressed Syria's keenness to talk to the U.S. and said the congressional visits helped to "formulate a joint vision for finding solutions to the problems in the region," SANA reported.

Bush sharply criticized Pelosi, a Californian Democrat, for calling on Assad, saying her visit eased the country's isolation. However, his administration stayed relatively quiet about a similar visit days earlier by a three-man Republican delegation.

Pelosi said the congressional visits were an "excellent idea" and said she was hopeful that Syrian-U.S. confidence could be restored through dialogue.

Pelosi's visit followed one by three congressmen from Bush's own party who also met with Syria's leaders.

"I don't care what the administration says on this. You gotta do what you think is in the best interest of your country," said Rep. Frank Wolf of Virginia, who was part of the delegation.