In 1991, the Republican Senator from Pennsylvania, John Heinz (Theresa Heinz Kerry's first husband) and six other people were killed when a helicopter collided with Heinz's plane over a schoolyard in Merion, Pa.
In 1984, Bob Bell retired as Bozo the Clown on WGN-TV in Chicago after 24 years.

In 1983, the space shuttle
Challenger
was launched for the first time.
In 1974, Hank Aaron of the Atlanta Braves tied Babe Ruth's career home run record by hitting his 714th round-tripper in Cincinnati.
In 1968, Martin Luther King Jr., is assassinated in Memphis, Tenn.

In 1967, Johnny Carson quit "The Tonight Show." He returned three weeks later after getting a raise of $30,000 a week.
In 1965, actor/singer Robert Downey, Jr., was born.
In 1964, the Beatles held the top five spots on Billboard's Hot 100 ("Can't Buy Me Love," "Twist and Shout," "She Loves You," "I Want to Hold Your Hand," "Please Please Me"), setting an all-time record. They also had the number one album.
The Beatles perform 'Twist and Shout' at the London Palladium, November, 1963
In 1963, Jason Robards, Sr., stage and screen actor and father of Jason Robards, Jr., died in Sherman Oaks, California.
In 1956, David E. Kelley (husband of Michelle Pfeiffer; writer and producer of such television programs as
L.A. Law, Doogie Howser, M.D., Picket Fences, Chicago Hope, The Practice, Ally McBeal, Boston Legal
) was born.
In 1949,
NATO
was formed by 12 western democratic nations, including the United States and Great Britain, to safeguard against Soviet aggression. [
Guardian Unlimited
,
Special Report: NATO
]
In 1932, Vitamin C was first isolated by C.C. King at the University of Pittsburgh.
In 1928, Maya Angelou was born.
In 1902, British financier Cecil Rhodes left $10 million in his will to provide scholarships for Americans at Oxford University in England.
In 1887, Susanna Medora Salter became the first woman elected mayor of an American community (Argonia, Kansas).
In 1872 in Vienna, Franz Sacher, a 16-year old apprentice chef, came up with a recipe for chocolate cake which bears his name - Sachertorte. It's a rich chocolate cake and is big business for Vienna. The recipe of the Original Sacher Torte is a well-kept secret to this day, protected by copyright, but it is served in the Hotel Sacher Wien (purely organic ingredients, contains no preservatives),
can be ordered and shipped
anywhere in the world.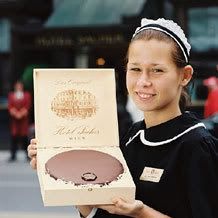 "The Original Sacher-Torte tastes best with unsweetened cream and a cup of Original Sacher Café or tea!"
In 1850 The city of Los Angeles was incorporated, the same year that California was admitted to the United States.
In 1841, President William Henry Harrison died of pneumonia one month after his inauguration, becoming the first U.S. president to die in office.
In 1818, Congress decided the U.S. flag would consist of 13 red and white stripes and 20 stars, with a new star to be added for every new state.
In 1802, Dorothea Dix, activist on behalf of the indigent insane who, through a vigorous program of lobbying state legislatures and the United States Congress, created the first generation of American mental asylums, was born in Maine.
In 1648, Grinling Gibbons (master wood carver to King George 1, employed by Sir Christopher Wren to work on St. Paul's Cathedral and other churches around England) was born.
Choir stalls carved by Grinling Gibbons, St. Paul's Cathedral, London

Ends of the bookcases sport intricate carvings by Grinling Gibbons in the lighter limewood. The Wren Library, Cambridge [Explore St. Paul's Cathedral - virtual tour]
In 1581, English navigator Francis Drake returned home after sailing around the world, and was knighted by Queen Elizabeth I.
Drake presented Queen Elizabeth with his diary of the voyage and a map of the world. The original map was lost in a fire but several copies were made. Shown above is the Hondius Map held by University of California-Berkeley's Bancroft Library. [Note the four corners of the map with illustrations of important events that ocurred during the voyage. See Sir Francis Drake History on the Internet for a detailed view.]