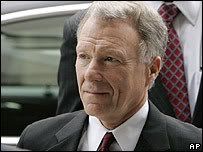 After a U.S. appeals court refused to delay the jail sentence of former White House official Lewis "Scooter" Libby (found guilty of perjury and obstruction in the CIA leak case), Bush commutes Libby's prison term, saying the 2 1/2 years in prison was "excessive."
The BBC reports on today's events:
A US appeals court has refused to delay the jail sentence of former White House official Lewis "Scooter" Libby, who was sentenced over the CIA leak case.

He had appealed to delay his prison sentence while fighting his conviction.

But the panel of three judges turned him down, ruling he had not shown his appeal "raises a substantial question".

Libby was sentenced to 30 months' jail for obstructing justice and perjury in the inquiry into the leak of CIA agent Valerie Plame's identity, in 2003.

Nobody has ever been charged with the offence of leaking the identity of Ms Plame, whose husband criticised the Iraq war.

Renewed pressure

Libby was the former chief of staff to Vice-President Dick Cheney.

He has not yet been assigned a prison or been given a date to begin his sentence. But last week the US Bureau of Prisons gave him federal inmate No. 28301-016.

His lawyers have not yet responded to the latest court ruling, but his supporters have called on President Bush to pardon him.

"I hope it puts pressure on the president. He's a man of pronounced loyalties and he should have loyalty to Scooter Libby," former Ambassador Richard Carlson said, who is also a member of Libby's defence fund.

"It would be a travesty for him to go off to prison. The president will take some heat for it. So what? He takes heat for everything."
Bloomberg.com reports on Bush's commutation:
President George W. Bush commuted Lewis "Scooter" Libby's prison term in the CIA leak case, saying the 2 1/2 year prison term was "excessive."

Libby, 56, was convicted of lying to investigators probing the 2003 leak of CIA official Valerie Plame's identity. Backers of Libby, former chief of staff to Vice President Dick Cheney, had argued for a pardon. Bush acted after a U.S. appellate court today refused to let Libby stay out of prison during his appeal.

"My decision to commute his prison sentence leaves in place a harsh punishment for Mr. Libby," Bush said in a statement. "The consequences of his felony conviction on his former life as a lawyer, public servant, and private citizen will be long- lasting." [Read entire statement here.]

The president's action means that Libby's conviction still stands and he is still required to pay the $250,000 fine ordered by a federal judge.

That's Republicans' lunch money. And eleven minutes of what Dick Cheney earns from his golden parachute from Halliburton of deferred salary. It's also what Barbara Comstock raised for Libby's secret defense fund within thirty seconds of Libby's indictment.

The question of whether to intervene in Libby's case had been termed a "no-win situation" for the president by David Gergen, who advised Presidents Richard Nixon, Ronald Reagan and Bill Clinton.

With Bush already suffering poor approval ratings, a Cable News Network/Opinion Research survey conducted after Libby's March 6 conviction found that 69 percent of respondents opposed a pardon while 18 percent favored it. Congressional Democrats, including Senate Democratic Leader Harry Reid, demanded that Bush promise not to pardon Libby.

Pro-Libby Firestorm

At the same time, a pro-Libby firestorm was being fanned by self-described conservative bloggers and talk-radio hosts, and many conservative leaders asked the president to step in.

Until now Bush had stayed out of the case, with his aides saying he would let the appeal go forward.

Libby's supporters argued that special prosecutor Patrick Fitzgerald was over-zealous in prosecuting Libby for lying to investigators when no one was charged over the actual leak of Plame's status as a Central Intelligence Agency official.

Libby was convicted of obstructing justice, perjury and making false statements. He resigned as Cheney's chief of staff upon being indicted in 2005.

Libby was found guilty of lying to Federal Bureau of Investigation agents and a grand jury probing whether the Bush administration deliberately leaked Plame's identity to retaliate against her husband, Joseph Wilson. In a New York Times column on July 6, 2003, Wilson accused the government of twisting intelligence to justify the invasion of Iraq earlier that year.

Novak Column

Plame's status as a CIA official was disclosed eight days later in an article by syndicated columnist Robert Novak. Novak testified during the trial that Plame's identity was provided to him by then-Deputy Secretary of State Richard Armitage and confirmed by White House political adviser Karl Rove.

Fitzgerald argued that Libby lied about his knowledge of the leak to protect his job. It's a federal crime to knowingly reveal the identity of a covert CIA agent, and the White House had announced that anyone who leaked Plame's identity would be fired. No one was charged with a crime or fired for the leak.

Libby's lawyers said national security matters kept him too preoccupied to remember details about the leak.