David Vitter was a member of the Louisiana House of Representatives from 1992-1999. He won a special election to the U.S. House of Representatives in 1999 to replace Bob Livingston who had resigned after admitting to an adulterous affair.
When Vitter entered the race for the U.S. Senate in 2004,
Salon.com reported:
As Vitter geared up in 2002 to run for governor, his bitter race against Treen came back to haunt him. A Treen supporter, local Republican Party official Vincent Bruno, blurted out on a radio show that he believed Vitter had once had an extramarital affair.

The Louisiana Weekly newspaper followed up. Bruno told the paper that the young woman had contacted the Treen campaign in 1999 because she was upset that Vitter was portraying himself as a family-values conservative and trotting out his wife and children for campaign photo ops. Bruno, who declined to comment for this story, and John Treen interviewed the woman, who said she had worked under the name "Leah."
But after nearly a year of regular paid assignations with Vitter, the lawmaker asked her to divulge her real name, according to Treen, citing the account he said she gave him. Her name was Wendy Cortez, Treen said. She said Vitter's response was electric. "He said, 'Oh, my God! I can't see you anymore," John Treen told me, citing the woman's account to him and noting that Vitter's wife is also named Wendy. And Wendy Vitter does not appear to be the indulgent type.

Asked by an interviewer in 2000 whether she could forgive her husband if she learned he'd had an extramarital affair, as Hillary Clinton and Bob Livingston's wife had done, Wendy Vitter told the Times-Picayune: "I'm a lot more like Lorena Bobbitt than Hillary. If he does something like that, I'm walking away with one thing, and it's not alimony, trust me."

Do you remember these two?

Vitter, Bruno and others interviewed the alleged prostitute several times in 1999. She also met with a respected local television reporter, Richard Angelico, the Louisiana Weekly said. But Angelico declined to run with the story after she would not agree to go on camera, the paper said. Vitter denied the allegations. But shortly before the Louisiana Weekly was set to publish its story, he dropped out of the governor's race, saying he needed to deal with marital problems. "Our [marriage] counseling sessions have ... led us to the rather obvious conclusion that it's not time to run for governor," Vitter said at the time.

Chris Tidmore, the author of the Louisiana Weekly story, said he interviewed the alleged prostitute by telephone and reviewed the notes of her sessions with Treen and Bruno before publishing his story. He said she had moved away from New Orleans and is now living under an assumed name. Salon could not locate her.

Amid Vitter's denials and the reluctance of his accuser to go public, no newspapers in Louisiana reported on the allegations. And, when Sen. Breaux announced his retirement last December, Vitter jumped into the race to succeed the conservative Democrat. The far-right and confrontational Vitter was the opposite of Breaux, who had been a consensus-builder in Washington with close relationships with Republicans.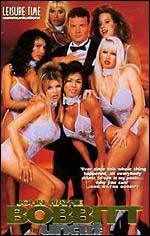 Is there life after the U.S. Senate?