Kathy Griffin's Emmy Remarks to Be Censored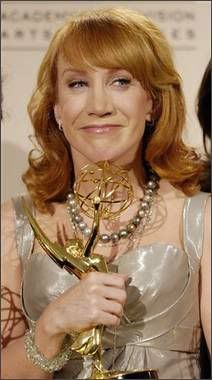 The AP reports:
Before Kathy Griffin won a creative arts Emmy last weekend for her reality show, 'My Life on the D-List,' she joked that an award would move her to the C-list. She was right: 'C' as in censored. The TV academy said her raucous acceptance speech will be edited when the event, which was taped, is shown Saturday on the E! channel.

The main prime-time Emmy Awards air the next night on Fox.

'Kathy Griffin's offensive remarks will not be part of the E! telecast on Saturday night,' the Academy of Television Arts & Sciences said in a statement Monday.
In her speech, Griffin said that 'a lot of people come up here and thank Jesus for this award. I want you to know that no one had less to do with this award than Jesus.'

She went on to hold up her Emmy, make an off-color remark about Christ and proclaim, 'This award is my god now!'

The comedian's remarks were condemned Monday by Catholic League President Bill Donohue, who called them a 'vulgar, in-your-face brand of hate speech.'


According to the TV academy and E!, when the four hour-plus ceremony is edited into a two-hour program, Griffin's remarks will be shown in 'an abbreviated version' in which some language may be bleeped.

The program was in production and unfinished, an E! spokeswoman said Monday.
Requests for comment were left Monday evening by phone and e-mail with Griffin's publicist. They were not immediately returned.

The Catholic League, an anti-defamation group, called on the TV academy to 'denounce Griffin's obscene and blasphemous comment' at Sunday's ceremony.

The academy said Monday it had no plans to address the issue in the prime-time broadcast.

The organization may have another delicate issue to consider, this one involving an off-color fake music video that aired last December on 'Saturday Night Live' and won a creative arts Emmy for best song.

Andy Samberg of 'SNL' said Saturday that he had yet to be asked by the TV academy to perform the tune with Timberlake on the Fox broadcast, but he was willing.

Timberlake, on a concert tour, is scheduled to be in Los Angeles next weekend.
The subject of their '(Blank) in a Box' video: wrapping a certain part of the male anatomy and presenting it to a loved one as a holiday present.

The academy has said that 'show elements are in the process of being worked out.'

Had Kathy Griffin not been Catholic, but had she been born into a Presbyterian family, would Donohue have launched his attack? How is it that Donohue and the Catholic League can own 'Jesus Christ' and dictate what can be said about him? Do they hold a trademark (Jesus Christ®)?

This is a typical example of what evangelical Christians mean when they say that "there is an attack on Christians" - the free speech rights of a private citizen.

P.S. Way to go on the Emmy, Kathy Griffin!