That's if you believe that Bush and top aides on his staff would confide in a journalist Bush had just met in December, 2006.
Author of new book out on Bush claims to have inside look at his administration's controversies.
How does the Bush-Cheney administration become inept and indiscreet after more than six years of being the most secretive, disciplined administration in the history of the republic?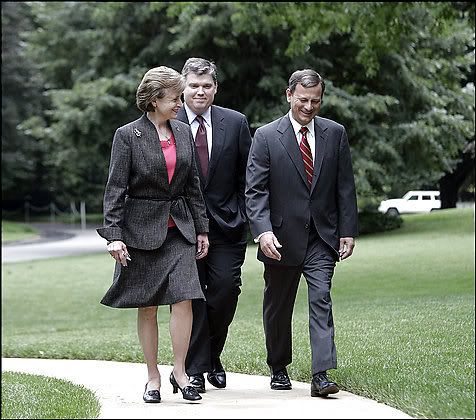 Harriet Miers with John G. Roberts Jr., right, and an unidentified person in July 2005. A new book, "Dead Certain: The Presidency of George W. Bush," describes how Bush came to nominate Miers for the Supreme Court. (By Eric Draper -- The White House Via Getty Images)
The Washington Post reports
:
John G. Roberts Jr., now the chief justice of the United States, suggested Harriet Miers to President Bush as a possible Supreme Court justice, according to a new book on the Bush presidency.

Miers, the White House counsel and a Bush loyalist from Texas, did not want the job, but Bush and first lady Laura Bush prevailed on her to accept the nomination, journalist Robert Draper writes in "Dead Certain: The Presidency of George W. Bush."

Karl Rove, Bush's top political adviser, raised concerns about the selection but was "shouted down" and subsequently muted his objections, while other advisers did not realize the outcry it would cause within the president's conservative political base, Draper writes.
The nomination of Miers was one of several self-inflicted wounds that have damaged the Bush presidency during its second term. After Miers withdrew in the face of the conservative furor, Samuel A. Alito Jr. was selected and confirmed for the seat.

In recounting this and other controversies of Bush's tenure, Draper offers an intimate portrait of a White House racked by more infighting than is commonly portrayed and of a president who would, alternately, intensely review speeches line by line or act strangely disengaged from big issues.

Draper, a national correspondent for GQ, first wrote about Bush in 1998, when he was the Texas governor. He received unusual cooperation from the White House in preparing "Dead Certain," which will hit bookstores tomorrow. In addition to conducting six interviews with the president, Draper said he also interviewed Rove, Vice President Cheney, Laura Bush and many senior White House and administration officials.

Draper writes that Bush was "gassed" after an 80-minute bike ride at his Crawford, Tex., ranch on the day before Hurricane Katrina struck the Gulf Coast and was largely silent during a subsequent video briefing from then-FEMA director Michael D. Brown and other top officials making preparations for the storm.

He also reports that the president took an informal poll of his top advisers in April 2006 on whether to fire Defense Secretary Donald Rumsfeld.

During a private dinner at the White House to discuss how to buoy Bush's presidency, seven voted to dump Rumsfeld, including Secretary of State Condoleezza Rice, incoming chief of staff Joshua B. Bolten, the outgoing chief, Andrew Card, and Ed Gillespie, then an outside adviser and now White House counselor. Bush raised his hand along with three others who wanted Rumsfeld to stay, including Rove and national security adviser Stephen J. Hadley. Rumsfeld was ousted after the November elections.

The book offers more than 400 footnotes, but Draper does not make clear the sourcing for some of the more arresting assertions -- such as the one about Roberts's role in the Miers nomination, which has hitherto not come to light. Roberts's nomination was highly praised by conservatives, and they criticized Miers as lacking conservative credentials.

White House spokesman Tony Fratto said yesterday that he had no comment on the book, including the claim about the Miers nomination. Roberts could not be reached for comment, a Supreme Court spokeswoman said last night.

Draper offers some intriguing details about Bush's personal habits, such as his intense love of biking. He reports that White House advance teams and the Secret Service "devoted inordinate energy to satisfying Bush's need for biking trails," descending on a town a couple of days before the president's arrival to find secluded hotels and trails the boss would find challenging.

He also makes new disclosures about the behind-the-scenes infighting at the White House that helped prompt the change from Card to Bolten in the spring of 2006. By that point, he reports, some close to the president had concluded that "the White House management structure had collapsed," with senior aides Rove and Dan Bartlett "constantly at war."

He quotes Gillespie as telling one Republican while running interference for Alito's Supreme Court nomination: "I'm going crazy over here. I feel like a shuttle diplomat, going from office to office. No one will talk to each other."

It has been previously reported that Card first suggested he be replaced to help rejuvenate the White House. But Draper writes that Bush settled on Bolten, then director of the Office of Management and Budget, as the new chief of staff before telling Card. When Card congratulated Bolten on his new assignment, he writes, Bolten "could tell that Card was somewhat surprised and hurt that Bush had moved so swiftly to select a replacement."

Rove, meanwhile, was not happy, Draper writes, with Bolten's decision to strip him of his oversight of policy at the White House, directing his focus instead to politics and the coming midterm elections. Bolten noticed that other staffers were "intimidated" by Rove, and Rove was seen as doing too much, "freelancing, insinuating himself into the message world . . . parachuting into Capitol Hill whenever it suited him."

Draper's book also tackles the run-up to the 2000 election and the administration's handling of Iraq.

He writes that Rove told Bush it was a bad idea to select Cheney as his vice president: "Selecting Daddy's top foreign-policy guru ran counter to message. It was worse than a safe pick -- it was needy." But Bush did not care -- he was comfortable with Cheney and "saw no harm in giving his VP unprecedented run of the place."

Draper offers little additional insight or details of Cheney's large influence in administration policy. But he writes that, despite his air of unflappability, the vice president did find himself ruminating over mistakes made, chief among them installing L. Paul Bremer and the Coalition Provisional Authority to run Iraq for a year after the invasion. Instead, Draper suggests, Cheney believes that the White House should have set up a provisional government right away, as Ahmed Chalabi's Iraqi National Congress recommended from the beginning.

Several of Bush's top advisers believe that the president's view of postwar Iraq was significantly affected by his meeting with three Iraqi exiles in the Oval Office several months before the 2003 invasion, Draper reports.

He writes that all three exiles, Kanan Makiya, Hatem Mukhlis and Rend Franke, agreed without qualification that "Iraq would greet American forces with enthusiasm. Ethnic and religious tensions would dissolve with the collapse of Saddam's regime. And democracy would spring forth with little effort -- particularly in light of Bush's commitment to rebuild the country."

Rove assured Bush, Draper reports, that he had known nothing about Valerie Plame, a CIA operative whose covert status was revealed by administration officials to reporters after Plame's husband criticized the administration's case for war in Iraq. "When Bush learned otherwise," he said, "he hit the roof."

Bush considered whether to cooperate with the book for several months, Draper reports. The two men met for the first time on Dec. 12, 2006, and at the conclusion, the president agreed to another interview. In one of the interviews, he looked ahead to his looming post-presidency, talking of his plans to build an institute focused on freedom and to "replenish the ol' coffers" by giving paid speeches.

He told Draper he could see himself shuttling between Dallas and Crawford. Noting that he ran into former president Bill Clinton at the United Nations last year, Bush added, "Six years from now, you're not going to see me hanging out in the lobby of the U.N."

Rovian prestidigitation.

This looks like misdirection to me. Just in time for Petraeus's and Crocker's return to the U.S. to report on Iraq.