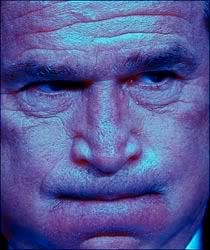 The LA Times reports:
President Bush sought to save Michael Mukasey's troubled nomination for attorney general Thursday, defending the retired judge's refusal to say whether he considers waterboarding torture and warning of a leaderless Justice Department if Democrats don't confirm him.

"If the Senate Judiciary Committee were to block Judge Mukasey on these grounds, they would set a new standard for confirmation that could not be met by any responsible nominee for attorney general," Bush said in a speech at the Heritage Foundation, a conservative think tank.

"That would guarantee that America would have no attorney general during this time of war," the president said.
Nonetheless, opposition continued to grow. Sen. Edward M. Kennedy, D-Mass., became the fourth of 10 Democrats on the 19-member Judiciary Committee to declare he will vote against Mukasey when the panel decides Tuesday whether to endorse or reject his nomination.

Kennedy said Mukasey's unwillingness to say that waterboarding, an interrogation technique that simulates drowning, is torture increases the chances that it will be used against U.S. troops.

"Judge Mukasey appears to be a careful, conscientious and intelligent lawyer and he has served our country honorably for many years," Kennedy said in a Senate speech announcing his opposition. "But those qualities are not enough for this critical position at this critical time."

Judiciary Committee Chairman Patrick Leahy, D-Vt., planned to announce Friday in his state how he will vote next week.

Bush framed Mukasey's nomination with the familiar theme of national security and the attorney general's role in it.

"It's important for Congress to pass laws and/or confirm nominees that will enable this government to more effectively defend the country and pursue terrorists and radicals that would like to do us harm," the president said earlier Thursday during a rare Oval Office session with reporters.

The comments raised questions about whether Bush would nominate anyone else to succeed Alberto Gonzales as the nation's top law enforcer. Bush could bypass Congress by filling the job with someone serving in an acting capacity or appointing someone while lawmakers are in recess to serve out the last 14 months of his administration.

Asked if Bush was saying he would not nominate anyone if Mukasey is rejected, White House spokeswoman Dana Perino said: "We don't believe it would come to that. No nominee could meet the test they've presented."

There is a way for Mukasey to get a full Senate vote even if committee Democrats are united in opposing him. The Senate Judiciary Committee could agree to advance the nomination with "no recommendation," allowing Mukasey the chance to be confirmed by a majority of the 100-member Senate. Several vote-counters in each party said Mukasey probably would get 70 "yes" votes.

Despite that prospect, opposition to Mukasey was growing among Senate Democrats. Most cited his refusal to say whether waterboarding is torture and thus illegal under U.S. and international law.

In a letter to Senate Democrats this week, Mukasey said waterboarding is "repugnant to me" but added he wanted to review legal and other issues surrounding it before saying whether it is torture.

Democratic Sens. Joe Biden of Delaware, Sheldon Whitehouse of Rhode Island and Dick Durbin of Illinois said this week they will vote "no" in committee. Assuming all nine of the panel's Republicans vote for Mukasey, only one Democrat would have to side with the president for the nomination to move to the full Senate with a favorable recommendation.

So far, the committee's other Democrats have declined to announce their positions. That includes Mukasey's chief Democratic sponsor, Sen. Chuck Schumer, D-N.Y.

Majority Leader Harry Reid, D-Nev., told reporters he could not guarantee a full Senate vote if the nomination fails in committee.

"I really believe in the committee process," said Reid, who has not said how he would vote. "If I'm asked by members of the committee to stay out of the fray, I am willing to do that."

Two Republicans troubled by Mukasey's initial answers said they would vote for him in the full Senate.

But in a letter to Mukasey, GOP Sens. John McCain of Arizona and Lindsey Graham of South Carolina urged the nominee never to let waterboarding be used if he were to become attorney general.