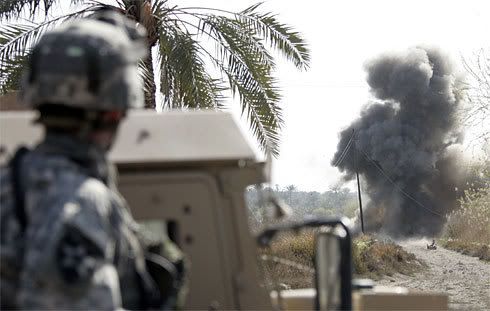 A U.S. soldier takes cover as an improvised explosive device is detonated near Baghdad. A new order lets officers decide whether to blow up IEDs or have technicians dismantle them.
USA Today reports:
During their last six months in Baghdad last year, Navy Lt. Sarah Wilson and her team of explosive ordnance disposal technicians said goodbye to each other more than 70 times.

Each time they were called to dismantle a roadside bomb, they'd bump fists. Then, Wilson says, "we'd all say we love each other because if we never got to say anything else" — if the bomb ended up exploding — "we wanted to be able to say goodbye."

After they arrived at the scene, they would often begin a perilous, painstaking task: taking apart the bombs, bagging the components and sending the parts back to a unit that analyzes them, much as investigators do on the television show CSI.
They were willing to take such risks, Wilson says, because "it's the best shot our guys on the ground have of … catching the bad guys." If forensic teams can lift a fingerprint or identify materials used in a series of bombs, "we can connect him," says Wilson, 27. "We know he's a bombmaker."

When roadside bombs became the insurgency's weapon of choice in Iraq, explosives disposal teams became increasingly important in efforts to protect U.S. troops and crack the bombmaking networks. But now, top military officials appear to be compromising efforts to catch bombmakers in favor of expedience and mobility, a USA TODAY investigation shows.



U.S. Marine Sgt. Raphael Hernandez, an explosives technician, examines a device that was fired from an improvised rocket launcher near a bridge in Habaniyah, Iraq, last January.


A classified order, issued May 30 and reviewed by USA TODAY, gives commanders the authority to forgo calling in explosives technicians like Wilson to glean intelligence from improvised explosive devices, or IEDs. Instead, commanders may use engineers traveling with their regular units to simply detonate the bombs — without gathering evidence from them. Engineers receive about 10% of the explosives training of technicians, and they're not allowed to dismantle bombs.

Commanders and others see the process, dubbed "blow and go," as a way to keep convoys and combat teams moving and safe from snipers and ambushes. But the Army's new approach also runs counter to military doctrine — and to the Pentagon's long-term goal of getting one step ahead of the insurgency by learning about the networks that build, plant and trigger IEDs. The weapon is responsible for at least 60% of U.S. casualties in Iraq.

"The blow-and-go strategy undermines and compromises those overall efforts by losing key biometrics and evidence needed to identify and capture the network of insurgents," says Rep. Solomon Ortiz, D-Texas, a senior member of the House Armed Services Committee and chairman of the subcommittee on military readiness.

"This is a huge step backward in the long-term effort to prevent IED attacks from occurring in the first place," Ortiz says, "and puts the troops at risk of facing more IED attacks for a long time to come."

The head of the Army Asymmetric Warfare Office, which helps combat forces counter IEDs, also is concerned. "What are we accomplishing by blowing and going?" asks Col. Dick Larry. "You rid yourself of that one device, but the problem is … you have not gotten any kind of exploitative information off it."

In July, a USA TODAY investigation showed that, until last year, the Pentagon balked at pleas from officers in the field for safer vehicles to protect against IEDs. One of the explanations offered by Defense officials for not spending more money on the life-saving armor: that the military's focus was on stopping bombmaking networks before they planted the explosives.

In its annual report last year, the military's Joint IED Defeat Organization (JIEDDO), called attacking the networks "the lynchpin of our success." Its deputy director, Robin Keesee, estimated last month that as many as 160 such insurgent cells have been identified in Iraq.

And the organization's report listed forensic analysis of bombs — determining how the devices were manufactured, and what parts and types of explosives were used — among the efforts that were providing "unprecedented" intelligence capability.

Among the successes touted by the Pentagon: linking Iran to a particularly dangerous incarnation of the IED, the explosively formed penetrator. "Iranian TNT blocks removed from their packages have been seen on numerous occasions as IED components," according to a Feb. 11 Pentagon PowerPoint presentation in Baghdad.

"I don't want to give away the king's secrets here, but yes, (forensic analysis) was fruitful," says Paul Plemmons, a retired Army colonel who used to command a task force that dismantled bombs. "A bomber is a bomber, and they leave signatures. We saw patterns. We could track patterns."

"We know the engineers are not going to collect forensic data, and the way you defeat that weapon is getting at the forensics," Plemmons says. "We may lose the one device that will lead us to take a whole cell down if you blow and go."

JIEDDO spokeswoman Christine DeVries would not characterize the importance of such analysis, saying that the group is wary about giving too much information to the enemy. But she did say it is "one of the tools that have enabled forces in theater to eliminate a significant number of IED cells."

The need for mobility

When U.S. forces invaded Iraq in March 2003, few foresaw how prevalent or deadly roadside bombs would become. But by that fall, IEDs had emerged as the biggest threat to troops, and the teams that would dismantle the bombs — the explosives technicians — were stretched thin.

In the first months of the war, only a few dozen technicians were in Iraq. Today, including commanders, more than 500 are deployed, many embedded within units.

"When we were first there, the rules of engagement were, 'Let's just destroy all these IEDs,' " recalls Marine Master Sgt. Michael Burghardt, an explosives technician.

During the past two years, Burghardt says, that approach changed. When he was working in Ramadi, Burghardt says, he was collecting intelligence from about 90% of the IEDs he handled.

Today, explosives technician teams try to collect evidence from "every scene," says Army Col. Karl Reinhard, who commands the Army, Navy and Air Force explosives disposal teams in Iraq. From December 2006 through September 2007, he says technicians have handled more than 6,000 IEDs. Since the war began, he says, records show about 80,000 such bombs were planted.

"Some of the information we would glean would be negligible. Other times, it would be important," Reinhard says. The danger of blowing and going, he says, is that "you never know which needle in the haystack is going to be an important needle."

Military doctrine — specifically, a publication titled Barriers, Obstacles and Mine Warfare for Joint Operations and prepared by the Joint Chiefs of Staff — reinforces the unique role of explosives disposal teams. The document, dated April 26, characterizes the work of those teams as "an essential part of the overall effort to develop a detailed forensic database to target centers of gravity in the IED system."

"In addition to developing actionable intelligence to support future operations," the document says, reports from explosives disposal teams have "an immediate impact on refining unit level force protection-related tactics, techniques and procedures."



A U.S. Humvee burns in April near Samarra, about 60 miles north of Baghdad, after an improvised explosive device detonated near its convoy. Roadside bombs account for more than half of the U.S. combat deaths in Iraq.


Since 2006, the military has taken significant steps to get more explosives disposal teams throughout the war zone.

Col. Kevin Lutz, an explosives technician set to replace Reinhard next year, says the military has tripled the number of explosives disposal teams in Iraq during the past 18 months — going from about 50 to about 150 three-person teams. Even so, when the tech teams are called to an IED, getting them to the site and letting them gather the intelligence often takes time. Sometimes, the delay is 30 minutes. Occasionally, it extends for hours.

Engineers have been lobbying to take a more active approach in destroying roadside bombs for the past few years, Lutz and others say. The engineers' traditional mission — to breach obstacles to keep units mobile — was arguably more important during the invasion of Iraq than it is now, given the military's current role policing the country.

Nevertheless, officials set up a training course, taught by explosives technicians, to help prepare engineers to detonate IEDs. Reinhard says those engineers receive less than 100 hours of training. Explosives technicians train for more than 1,100 hours, he says.

On May 30, Lt. Gen. Raymond Odierno, the second-ranking U.S. commander in Iraq, issued the order that empowers commanders to let engineers blow and go.

"The intent of the order was to allow qualified individuals to detonate explosives rather than waiting for others who may not be readily available," explains Brig. Gen. Michael Silva, an Army engineer who says he lobbied Odierno for the change. "It was a way to improve the efficiency of the route clearing team operations so we were actually enabling the soldiers to do the job that they needed to get done."

IEDs 'just an obstacle'

An instructor who teaches engineers at Fort Leonard Wood in Missouri says the order makes sense.

"If you look at IEDs as just an obstacle, one of the engineer functions is just to remove obstacles," says Maj. Eric Goser, executive officer of the Counter Explosive Hazard Center. "Bottom line: The IED to an engineer is no different than a log obstacle," Goser says. "A log … is an obstacle. You deal with that obstacle in a certain way."

Goser's logic troubles explosives technicians. "The difference is, the log obstacle won't kill you," says Reynold Hoover, a former explosives technician who worked as a special agent with the Bureau of Alcohol, Tobacco and Firearms and served in the first Gulf War.

"You're gaining mobility," Hoover says, "but what you're losing is the ability to find the bombmaker and the supply chain."

Moreover, the amount of time saved by blowing and going may not be much, Reinhard says. He says a study done this year by his task force estimates "the expected value of the time they could save would be 20 minutes, on average."

"Nobody wants to sit out on the battlefield for three to four hours," he says. "Two or three years ago, they were waiting that long. It's definitely not like that any more."

Statistics on response times are classified, but Reinhard says explosives technicians are now able to arrive relatively quickly at IED sites. "For instance, in the north, 85% of the responses in the last week of September were 90 minutes or less," he says. Lutz says a long wait for explosives technicians today is "an outlier."

Engineer Silva, who is no longer on active duty, is skeptical. He believes information released by the explosives technicians may be "skewed" against giving engineers more of a role.

"My belief is that there was a parochialism engaged there — parochial in the fact that they want to be the only ones … blowing" IEDs, Silva says of explosives technicians.

Do risks outweigh benefits?

It's unclear how often commanders have used the blow-and-go approach. Reinhard says records he reviewed showed engineers detonated "approximately 120" IEDs from June through mid-October — about one a day.

But Army Col. Peter DeLuca, commander of the 20th Engineering Brigade, estimates engineers he oversees blow and go at least three or four IEDs each day — far more than the records reviewed by Reinhard indicate.

"There's been a ramp-up," Reinhard explains. "They may both be true" he says of the figures.

Others aren't certain. "No one is keeping good track of that," says Larry, who heads the Army's anti-IED efforts. "How do we know what they're doing," he says of engineers, "if they don't report it?"

Odierno's order specifies that engineers can only detonate relatively simple IEDs, using devices such as robots and the robotic arm of Mine Resistant Ambush Protected vehicles — machines that keep troops out of harm's way.

"We have very, very strict limitations about what we are and what we're not supposed to blow up," says Army Spc. Walter Hayden, the 1st Platoon team leader with the 1203rd Engineer Battalion. "If I ever have any kind of doubt," he says, he calls in explosives technicians.

Silva says he can see the amount handled by engineers growing — and the limitations on engineers being lifted as training improves. To date, neither DeLuca nor Reinhard believes any engineers have been hurt while blowing and going.

Despite reservations, Reinhard says he doesn't "object to the engineers doing this provided that they can live within the bounds that sometimes you need to pause and take the time to exploit."

But some explosives technicians fear that engineers will overstep their mission — and make deadly mistakes. Burghardt says he and his team dismantled more than 900 IEDs during his three tours in Iraq. The one that detonated — the one that left six holes in his body, cracked his tailbone, threw him 10 feet and knocked him unconscious in September 2005, despite the protective gear he wore — was unlike any he had seen.

"It was the first time we saw the tactic of where they double stacked it," says Burghardt, 37, now stationed at Camp Fuji, Japan. "I was standing on top of the device when I was clearing it … and they just leave enough earth in between" that the device beneath the other IED was difficult to spot.

Burghardt's experience is what makes explosives technicians wary of the new order — particularly, the idea that engineers will be able to discern a simple IED from a more sophisticated one. "What's simple?" Burghardt asks rhetorically. "You're not going to know that until it's too late."

Such mistakes put troops and civilians at risk. In a 2005 paper for the Marine Corps War College, Lutz chronicled cases in which mistakes by engineers cost lives.

Two different cases during the first Gulf War in 1991 "led to the massive chemical exposure and contamination of thousands of coalition forces and non-combatants, and the loss of seven United States soldiers," Lutz wrote. The reason for one of the mishaps at As Salman Airfield in Iraq: "Engineers were clearing munitions they were unfamiliar with and that turned out to be some of the most deadly unexploded ordnance our inventory can produce."

He wrote that, "buried within the … investigations, point papers, after-action reports, lessons learned from the various units (now in Iraq) … one can find repetitive incidents where the improper destruction of (explosives) led to severe contamination of the surrounding area and caused injury, death and destruction of equipment and facilities to both United States Armed Forces and to the local Iraqi civilian population."

Explosives technician Plemmons put it more tersely. He says the difference between an engineer and an explosives technician handling an IED is like the difference between "your physician's assistant" and "an orthopedic surgeon."