There is no such thing as democracy when power is concentrated and passed from one generation to the next within one family....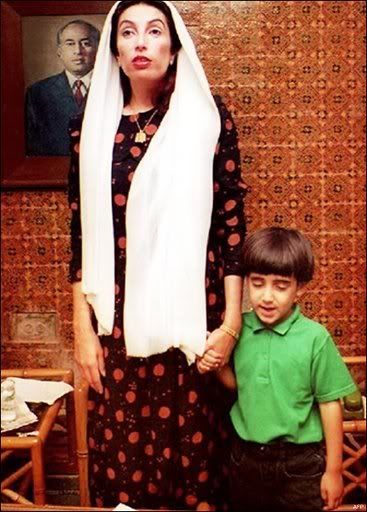 Benazir Bhutto, flanked by her father, Pakistan's former Prime Minister Zulifikar Ali Bhutto (photograph above her right shoulder), and her son, Bilawal, October 1993.
....Or two families. Or two political parties. Not in Pakistan (population 165 million), nor in the United States (population 300 million).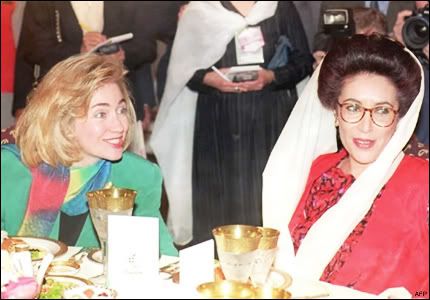 US First Lady Hillary Clinton (L) smiles with Pakistani Prime Minister Benazir Bhutto at a luncheon in her honor at Prime Minister House in Islamabad 26 March. Bhutto described Mrs. Clinton as a "symbol for women throughout the world."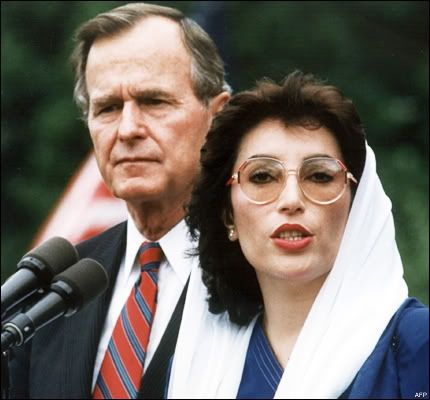 Prime Minister Benazir Bhutto of Pakistan makes remarks beside US President George Bush during White House welcoming ceremonies 06 June 1989, Washington, DC.
McClatchy reports:
Benazir Bhutto left a last will and testament that maps out the future for her political party and who should lead it in her absence, her husband Asif Zardari disclosed on Saturday.

The document will be presented to her Pakistan People's Party on Sunday. It's expected to include her preference for who should lead the party in her absence. Zardari himself would be a highly controversial contender. Their son Bilawal would win a huge amount of goodwill, but is still a teenager, and Zardari appeared to rule him out on Saturday.

"He's too young. He's 19 years old," Zardari said.
Zardari said he opened the letter himself only on Saturday. Its contents will be read to an emergency meeting of the party on Sunday by Bilawal, a student at Britain's prestigious Oxford University, where his mother also studied.

"She left a message for the party and she left a will," Zardari said, in between meeting mourners who came by the hundreds to Benazir Bhutto's family home here in the village of Naudero. "This [document] is about politics. What we should do and how we should go about things."

Asked whether he wanted to lead the party, he didn't dismiss it.

"Lets see.... It depends on the party and it depends on the will."


Longer term, it's widely predicted that Bilawal Bhutto will take over leadership of the party, Pakistan's most popular political machine, which has always been led by a Bhutto. Benazir's sister, her only surviving sibling, has never taken part in politics.

The People's Party is faced with a vacuum of leadership. There are no towering figures within the party. Many say that Ms. Bhutto did not allow others to gain much recognition, and she concentrated power and decision-making in her hands. The party must also decide whether to boycott the parliamentary elections, now set for January 8.

These political decisions must be made amid continued grief and mourning. On Sunday, special prayers will mark the third day after her death, an important marker in the Muslim faith.

On Saturday Zardari met with mourners. He stood in the courtyard of the family home, where mats had been spread. He embraced each man in turn, as dozens lined up every few minutes. Then there would be a short break for prayers, and the mourners would start coming forward again. Women passed through but went to a different area.

Many men were in tears, some crying uncontrollably. Most looked like poor peasant farmers from the surrounding countryside, dressed in tatty and stained clothing. Also attending were some political figures.

Periodically, large groups of veiled women would enter the compound wailing and beating their heads.

Zardari kept his composure throughout.

A neighbor in the village, Dur Mohammed, who came to Benazir's house, said: "We feel this was not the body of Benazir Bhutto. This was the corpse of our future, our dreams."

The crowd's emotion reached a breaking point with the arrival of Nawaz Sharif, leader of another political party who had been a bitter rival of Benazir. The throng surrounded him and his entourage, chanting "Benazir is innocent" and "long live Bhutto".

Deep anger was evident.

"She repeatedly told the government that the security had to be beefed up. She was very much concerned for her life," said a cousin, Shahid Hussain Bhutto. "It was not a suicide attack. It was a planned, targeted, killing."

Iqbal Haider, a former attorney general of Pakistan, said the government was "trying to create confusion and hide the real killers".

"Where was the security? Why didn't they cover the vehicle? There was no security, no precautions. That is why we hold [President] Pervez Musharraf responsible."

If it's not one of Benazir Bhutto's children being groomed to retain power, it's another:
Benazir Bhutto wanted her children to keep off politics and fiercely guarded them from the media.

After her assassination, true to sub-continental traditions, speculation has already begun on which of her two older children will become her political heir.

The eldest, 19-year-old Bilawal, has emerged as a possible contender to continue his family's dynasty. And Bakhtawar Zardari, 16 — two years older than the youngest Asifa — is on record saying three years ago that her life's mission was to serve Pakistan as a politician.


Bilawal Bhutto, who uses his mother's surname and looked disconsolate at the funeral today, is believed to have a keen interest in history and politics. He was first tapped as a possible successor when he enrolled at Oxford, the same university from which his mother and grandfather graduated.

Pakistan People's Party leaders had earlier said Bilawal would not enter politics till he had finished his degree but those comments were themselves taken as a hint of his future intentions.

Some party sources, however, were doubtful how inclined the young man would be to take up the responsibility at the moment.

Bakhtawar may not have had any hesitation, from what she had said in an interview to The Telegraph in August 2004.

"I will surely enter the political arena and carry forward the mission of my mother Benazir Bhutto and grandfather Zulfikar Ali Bhutto — to serve Pakistan," the 13-year-old had said in Karachi, choosing her words as carefully as a seasoned politician.

She had come over from Dubai, where the children lived with Bhutto during her eight years of self-imposed exile, to see her ailing father, Asif Ali Zardari.

The trip and the interview were an exception, considering the protective cover under which Bhutto kept her children.

Asked by an American reporter in 1994 if her children would follow her into politics, she had replied with conviction: "No. Never. Politics in Pakistan is much too dangerous."

She had added: "I would like to see my son as a lawyer and I would like my (elder) daughter to be a social worker."

Sometime this year, however, she seemed to have changed her mind. Newspapers said she was grooming Bilawal, registering him as a Pakistani citizen through the embassy in Dubai, making him eligible to vote in her hometown of Larkana.

In that Bhutto might have been following in the footsteps of her mother Nusrat, who had favoured son Murtaza over her daughter as the successor to husband Zulfikar Ali Bhutto.

Bhutto — who was older than her brother which Bakhtawar is not — had then dismissed Nusrat's position as reflecting "pure male prejudice".

Her reported decision to back Bilawal would have partially mirrored Sonia Gandhi's choice of Rahul over Priyanka at a time many in the Congress saw the more articulate daughter as the natural political heir to Rajiv Gandhi.

Some PPP lobbies are touting a woman successor, but it's not Bakhtawar. The candidate is Murtaza's 25-year-old daughter, an educated, photogenic and headstrong woman who has criticised Bhutto in her columns for the English-language daily The News.

Around the time Bakhtawar gave the interview to The Telegraph, Zardari had said he wanted to see all the three children in politics. He said he expected Bakhtawar and Asifa to join the PPP women's wing and Bilawal the students' body.

Family friends described the children as "humble and respectful of elders".

"All three, like their mother, are fond of books and literature," said Iqbal Haider, secretary-general of the Pakistan Human Rights Commission and former law minister.

Haider said Bilawal took after Bhutto also in his love of computers. The tall and dapper young man, often described as Z.A. Bhutto Junior, "is deeply attached to his mother and speaks very affectionately of her all the time," Haider said.

Bhutto, when she was Prime Minister, used to carry a baby Bilawal in her arms even to official functions to her aides' consternation.

The young man today helped carry Bhutto's coffin to the plane at Islamabad.

Bhutto doted on her children and closely followed their education and guided their upbringing. She resisted previous calls for return to Pakistan, saying her children needed a mother.

It was only when they entered their teens that she agreed to take the plunge again in the rough-and-tumble of Pakistan's politics, only to fall a victim to it.

She had taken time off her election campaign yesterday morning to speak to her children. It turned out to be the last time.

Neither Zardari nor Bilawal wanted to discuss their family's political plans after their arrival in Pakistan late last night.

"I have only now begun to mourn her death," said Zardari, 51, who had 10 days ago celebrated 20 years of marriage to Bhutto, 54.