Mukasey Rejects Call for CIA Tape Details and Special Prosecutor
The Washington Post reports:
Attorney General Michael B. Mukasey today sharply rebuffed congressional demands for details about the Justice Department's inquiry into the destruction of CIA interrogation tapes, saying that providing such information would make it appear that the department was "subject to political influence."

In letters to the leaders of the Senate Judiciary Committee and others, Mukasey also reiterated his opposition to appointing a special prosecutor to the tapes investigation, saying he was "aware of no facts at present" that would require such a step.

"At my confirmation hearing, I testified that I would act independently, resist political pressure and ensure that politics plays no role in cases brought by the Department of Justice," Mukasey wrote. "Consistent with that testimony, the facts will be followed wherever they lead in this inquiry, and the relevant law applied."
Wouldn't you have loved to be a fly on Chuck Schumer's wall when he heard about Mukasey's response to the bipartisan inquiry by U.S. senators? And just when you think you've heard every conceivable weasel word and spinned excuse by the Bush administration's appointees for stalling, stonewalling, and not cooperating with Congress's Constitutionally-required role of oversight and investigation.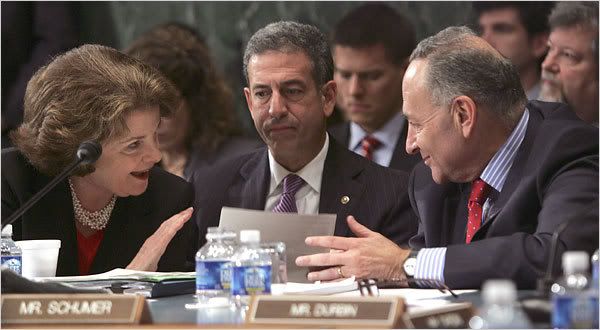 Senators Dianne Feinstein, Russ Feingold and Chuck Schumer (the senator who suggested that Bush nominate Mukasey for the job) confer during the Senate Judiciary Committee meeting to vote on sending Michael Mukasey's nomination as Attorney General to the floor of the Senate.
One letter was sent to Sens. Patrick J. Leahy (D-Vt.) and Arlen Specter (R-Pa.), the leaders of the Senate Judiciary Committee. Similar correspondence was sent to Senate Majority Whip Richard Durbin (D-Ill.) and to House Judiciary Chairman John Conyers (D-Mich.) and other House Democrats.

The three letters represent an attempt by Mukasey to push back against growing pressure from lawmakers, primarily Democrats, who have showered the Justice Department with demands for investigations or information on topics ranging from the baseball steroids scandal to allegations of rape by a former military contractor employee.

The letters also are an assertive move by the new attorney general, who was confirmed last month with the lowest level of Senate support in the past half century because of his refusal to say whether a form of simulated drowning known as waterboarding amounts to torture under U.S. law.

Mukasey replaced former attorney general Alberto R. Gonzales, who left office in September after the furor over his handling of the firings of nine U.S. attorneys and allegations that he misled Congress in sworn testimony.

The CIA disclosed last week that it destroyed videotapes in 2005 depicting interrogation sessions for alleged al-Qaeda operatives Zayn al-Abidin Muhammed Hussein, commonly known as Abu Zubaida, and Abd al-Rahim al-Nashiri. Administration officials have said that lawyers at the Justice Department and the White House, including former counsel Harriet E. Miers, advised the CIA against destroying the tapes but that CIA lawyers ruled their preservation was not required.

The Justice Department announced Saturday it had joined the CIA's inspector general in launching a preliminary inquiry into the tape destruction, and prosecutors asked the CIA to preserve any related evidence.

Leahy and Specter asked Mukasey on Dec. 10 for "a complete account of the Justice Department's own knowledge of and involvement with" the tape destruction. The two senators included a list of 16 separate questions, including whether the Justice Department had offered legal advice to the CIA about the tapes or had communicated with the White House about the issue.

Durbin had sent a letter to Mukasey Dec. 7 asking whether an investigation into the tape destruction would be pursued. Conyers and three other House Democrats authored a similar letter on the same day.

Mukasey wrote to the lawmakers that Justice "has a long-standing policy of declining to provide non-public information about pending matters.

"This policy is based in part on our interest in avoiding any perception that our law enforcement decisions are subject to political influence," Mukasey wrote to Conyers and the others. "Accordingly, I will not at this time provide further information in response to your letter, but appreciate the Committee's interests in this matter."

The tape investigation is being led by Kenneth Wainstein, head of the Justice Department's National Security Division. Wainstein held his first substantive meeting on the case Wednesday with staffers at the CIA inspector general's office, according to a law enforcement official.

Several Democrats have raised questions about the propriety of having the inquiry run by the Justice Department, whose lawyers were involved in offering legal advice about the tapes, and the CIA inspector general, whose office reviewed the tapes before they were destroyed.

CIA Director Michael V. Hayden said last week that the inspector general's office examined the tapes in 2003 "as part of its look at the Agency's detention and interrogation practices."

Also yesterday, the beleaguered head of the Justice Department's Voting Rights Section disclosed in a letter to employees that he was being transferred to another job in the agency.

John K. Tanner said he was moving to the Office of Special Counsel for Immigration-Related Unfair Employment Practices after nearly 32 years in the Civil Rights Division.

Tanner had come under fire for making a series of racially charged statements earlier this year, including a suggestion that black voters are not hurt as much as whites by voter identification laws because "they die first."

Tanner apologized for the "tone" of his remarks in House testimony, but stuck with his overall argument that demographic differences temper the impact of identification laws on minorities. Tanner also was criticized by Democrats for approving a Georgia voter identification law in 2005 that was struck down by a federal court as discriminatory.

Tanner is the subject of an investigation by the Office of Professional Responsibility into his travel records and trips he approved for a subordinate, officials have said.

The move to shift Tanner out of civil rights could be seen as a move by Mukasey to tamp down criticism of the department's recent record. But Justice also filed a friend-of-the-court brief earlier this week siding with an Indiana identification law, which has been criticized by liberal groups and many voting experts.
Meanwhile, John Cook at Radar Online reports:
Behold, the Bush Administration in chart form: Federal spending on paper shredding has increased more than 600 percent since George W. Bush took office. This chart, generated by usaspending.gov, the U.S. government's brand spanking new database of federal expenditures, shows spending on "contracts for paper shredding services" going back to 2000. Click here for the full, heartbreaking breakdown. In 2000, the feds spent $452,807 to make unpleasant truths go away; by 2006, the "Cheney Effect" had bumped that number up to $2.9 million. And by halfway through 2007, the feds almost matched that number, with $2.7 million and counting. Pretty much says it all.