Event Title : Washington Opera Golden Gala

What To Expect : The Washington National Opera's Golden Gala Concert celebrating the company's 50th anniversary season. Opera performance followed by a special anniversary dinner.

Date : Sunday, 3/19/2006

Time : : 6:00 pm performance with dinner to follow

Location : : Performance at the Opera House of the Kennedy Center, Dinner in the Roof Terrace.
John Negroponte and his wife, with
Mercedes Kellogg Bass
(of the Aspen Institute) and her husband,
Sid
.
Paul Wolfowitz with Roy M. Huffington is chairman of the Board and chief executive officer of Roy M. Huffington, Inc., an independent, international oil and gas company located in Houston, Texas. Arianna's former father-in-law. Huffington's Huffco made a huge Indonesian gas strike in '72. [Huffco sent the Suharto dictatorship illegal shipments of billy clubs and shock batons in the '80s, which spoiled Reagan's plans to make Roy's son an assistant secretary of Commerce. Michael Huffington then shattered campaign-spending records trying to be a California Senator.]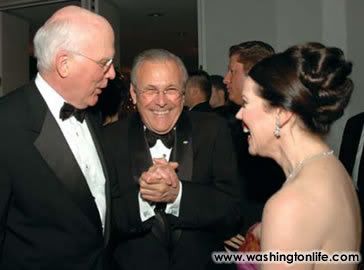 Vermont's Senator Patrick Leahy, Secretary of Defense Donald Rumsfeld and soprano Elizabeth Futral.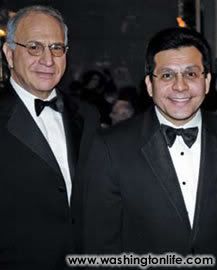 Michael Sonnenreich, CEO of Pharmatrak, with U.S. Attorney General Alberto Gonzalez.


Jacqueline Badger Mars (Mars candy family, one of the 18 families backing efforts to abolish the estate tax), Betty Scripps Harvey and Jeremy Harvey.

Ross Perot, U.S. Ambassador to Denmark Stuart Bernstein and his wife Wilma, Ambassadors from Kuwait, Japan, Sweden, Norway, Holland, and Italy, U.S. Supreme Court Justices Breyer, Ginsburg and Scalia were also in attendance.

Filed under: Washington Life, Washington Opera Golden Gala, Wilma Bernstein, Stuart Bernstein, Ruth Bader Ginsburg, Antonin Scalia, Stephen Breyer, Jeremy Harvey, Betty Scripps Harvey, Mars candy, Jacqueline Badger Mars, PharmaTrak, Michael Sonnenreich, Ross Perot, HuffCo, Roy M. Huffington, Paul Wolfowitz, Aspen Institute, John Negroponte, Sid Bass, Mercedes Kellogg Bass, Kennedy Center, Arianna Huffington, Alberto+Gonzalez, Donald Rumsfeld, Patrick Leahy, The Constant American, Constant American, Technorati Tag, Technorati Tags, tags, categories