An era is coming to an end in June. Unless....
The John Barleycorn, one of San Francisco's hidden gems for nearly 40 years, is being forced to leave. Luisa Hanson, the new owner of the property at 1500 California Street, the building which houses the Barleycorn, refuses to discuss any renewal of the lease, which expires in June.

At issue is not only the continuance of the Barleycorn, a center of the community and an asset to the city as well, but the economic future of the neighborhood of Lower Nob Hill. The Barleycorn, with its cable car benches, church pews from Old St. Mary's and other historic furnishings, is the right size and scale for this neighborhood. Its replacement will be resented, and perhaps shunned, leading to the economic demise of any subsequent business, particularly for a proprietor who turns a blind eye to neighborhood tradition.

We firmly believe that two viable, individually owned businesses—the Barleycorn and The Front Room—that have been excellent neighbors will be lost for no good reason, resulting eventually in two vacant storefronts at the corner of California and Larkin.

A show of strength, interest and loyalty from the neighbors and friends of the Barleycorn can help prevent this. Please read and sign the open letter below, and if you can do more, read on.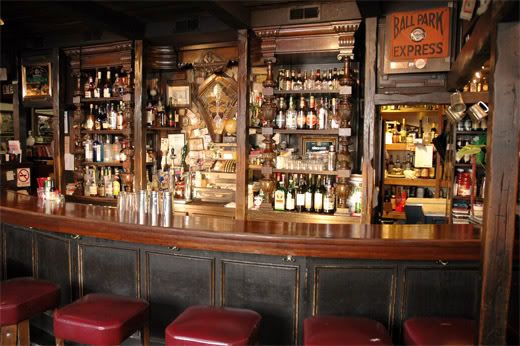 Like everywhere else in the U.S., San Francisco is showing the effects of over-development, and a casual regard for the contributions that non-corporate businesses make to a community. It's establishments like
John Barleycorn's
that make a sprawl of city blocks into a neighborhood, and strangers into family:
Told by Niall O'Byrne on January 12, 2007 -

It was an autumn evening in mid October 1989, but not like any other evening. I was set to meet a Spanish friend Tony Rodriquez at The Barley to discuss the fate of the SF Giants opponent in the World Series. But the earth shook that day, and not a little 3.5 shaker either. Some say it was an earthquake, but I think it was John Barleycorn himself raising a glass of stout in a toast to good friends coming to his house. While most other establisments were frightened and shut their doors that night. John Barleycorn was open under candlelight, with foam flowing over pints glasses and sounds of a transistor radio in the background. Toasts were made and many stories were told.

Other miracles happen at John's place. He can make a portugese pizza and he doesn't even have an oven. But if you order it 15 minutes later it will appear through the backdoor.

We can't lose this little oasis of Nob hill.

~More told-tales of the JB...
"Heart of Saturday Night"
Filed under: sprawl, San Francisco, American culture, John Barleycorn, The Constant American, Constant American, Technorati Tag, Technorati Tags, tags, categories