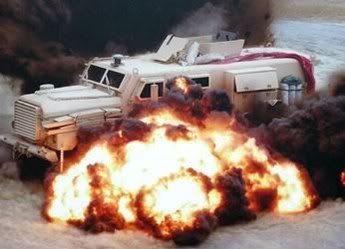 On December 7, 1941, the Japanese pretty much destroyed the U.S. Navy.
Within one decade, Americans rebuilt the Navy's arsenal, won the war in the European and Pacific theaters, and went on to rebuild all of Europe and a good part of Japan and the Phillipines.
George W. Bush was given an
unlimited
budget to go to war in Iraq and Afghanistan. What is so difficult about getting U.S. troops the equipment they need and in a timely manner?
Reuters reports
:
U.S. troops in Iraq will receive at least 1,000 fewer special armored vehicles than expected this year due to the amount of time needed for shipment, the Pentagon said on Wednesday.

Pentagon spokesman Geoff Morrell said the Defense Department expected defense contractors to produce 3,900 Mine Resistant Ambush Protected (MRAP) vehicles this year. But only 1,500 would make it to the war zone -- down from the Pentagon's previous shipment target of 2,500 to 3,000.

"If we could get 1,500 to theater by the end of this year, that would be a positive development," Morrell said.
The new goal of 1,500 was first reported by Stars & Stripes, the newspaper for troops overseas that is partially funded by the Defense Department.

The MRAP vehicle is one of the Pentagon's top acquisition priorities and the Defense Department's aim has been to buy as many as can be produced. It follows years of criticism directed at the Pentagon for not providing adequate armor to troops.

MRAPs have a special V-shaped hull that provide greater protection against roadside bombs, the number one killer and maimer of the troops. According to the military, no troops have been killed while riding in one.

Once the MRAPs are built, the military installs necessary military equipment - such as radios and radar - then sends them to Iraq. Right now that process is taking about 50 days, but officials hope to shorten that to a little more than a month.

Still, [Pentagon press secretary Geoff] Morrell said that many of the MRAPs produced in November and December won't get to Iraq before the end of the year. He said getting 3,500 to the forces in Iraq by year's end was an "ambitious goal" but the revised estimate of 1,500 is more realistic now.

Morrell said it takes about 50 days to equip and ship a finished MRAP into the war zone. That includes 15 days for equipping and 35 for transport by ship.

The Pentagon was already flying some MRAPs to the war zone, Morrell said.

But given the numbers to be produced, it will quickly become more cost effective to send them by ship, he said, noting November and December would be the highest production months to date.

Morrell said he did not know which units in Iraq would be affected by the production shortfall this year.

MRAP contractors include:

-- Navistar International Corp.'s International Military and Government LLC;

-- Force Protection Inc., which is partnered with General Dynamics Corp.'s Land Systems business arm;

-- a General Dynamics Canadian unit;

-- BAE Systems Plc;

-- Oshkosh Truck Corp.;

-- closely held Protected Vehicles Inc. of North Charleston, South Carolina

As I'm putting this piece together, the television is on and I'm watching the latest episode of Top Chef in the background. On last week's episode, the contestants were divided into two teams of four chefs each and each team created a restaurant and menu. Both teams performed badly, and nobody was eliminated. This week, they were to do it all over again with some small changes in the rules, and were guaranteed that "somebody is going home."

It's the last ten minutes of tonight's episode and the panel of judges are talking about who on each of the teams of chefs is responsible for the overall failure of this latest mission. Because that's the person that's getting sent home.

How many years is it going to take to properly outfit our troops and send them into Iraq with the equipment that they need to get the job done and keep them protected? You can only say that it's Bremer's fault, or Rumsfeld's fault, or the Pentagon's fault, or Cheney's fault for so long. This is totally and completely the fault of the Commander-in-Chief, George W. Bush, a man with no experience or know-how about getting anything done, except ripping off the U.S. Treasury.

In less than a month, Bush is going to kick-off a campaign to pressure the U.S. Congress into keeping the war in Iraq going. One would think he'd have gotten his act together on something that is so simple (getting 3,500 MRAPs to Iraq) before asking Congress and the American people to trust again in his leadership and ability to get the job done.

If only life was like these reality shows, and we can convene a panel of citizen judges to tell Bush and Cheney, "Pack up your Diebold machines and wiretaps and leave."

If only.