Teenage Girl Faces Beheading in Saudi Arabia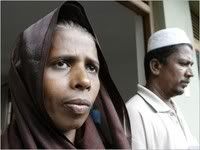 ABC News reports:
The family of a 19-year-old Sri Lankan girl is pleading for her life after a Saudi Arabian court sentenced her to death by beheading.

The court found Rizana Nafeek, 19, guilty of murdering a child in her care while working in the country. Her family (parents pictured above) has appealed the sentence, and human rights groups are calling for the Saudi government to overturn it.

At 17, Rizana Nafeek was sent to Saudi Arabia after the tsunami to work as a maid and make money for her family in Sri Lanka. But after only a few weeks and no child care training, her employers put her in charge of their 4-month-old baby. The baby died, and Nafeek was charged with murder, tried without an attorney and sentenced to death.
"This case raises many troubling questions about the treatment of children and foreigners in Saudi Arabia's criminal justice system," says Varia. "Foreigners simply do not receive the same treatment in the Saudi justice system. This includes having translation during the interrogation and during court proceedings and having an attorney."

About 1.5 million Sri Lankans work abroad, according to the country's labor statistics. Eighty percent of the women working abroad are employed as unskilled domestic workers, primarily in Saudi Arabia.

Varia says domestic workers are vulnerable to mistreatment. When Human Rights Watch sent a team of investigators to Saudi Arabia last year, Varia says the group found egregious abuse.

"The most commonly reported abuse is unpaid wages," she says. "It's routine for employers to take the passports of workers, and in order for the worker to leave the country, they have to get their employer to sign an exit visa."

Under Saudi Arabian law, employers have a heavy hand in how justice is served. After being charged and interrogated, Nafeek signed a guilty confession. If her former employers formally forgive her, she will be released, but they have so far refused to do so.

Nafeek's parents told local media outlets that their daughter was not trained in child care and that the baby "choked on milk." Human Rights Watch is calling for a new investigation into the case.

Varia says that because domestic workers in Saudi Arabia are not protected by labor laws, they don't have access to training, paid leave, reasonable hours or even one day off.

"They're not seen as real human beings," she says.

"It is socially accepted to lock your domestic worker inside the house. There are employers who forbid their workers to make phone calls home or write letters or talk to neighbors," says Varia, who interviewed domestic workers' employers in Saudi Arabia. "The reason they give is that, 'We paid a lot of money for this worker, and if I leave the door unlocked, she'll run away.'"

The problem is so severe that the embassies of Sri Lanka, Indonesia and the Philippines in Saudi Arabia can have as many as 150 women staying in embassy shelters because of abuse suffered at the hand of their employer, says Varia

The Saudi Arabia Embassy in the U.S. has not responded to calls and e-mails from ABCNews.com for this story, but Nafeek's case and other recent cases have drawn attention to the issue in Saudi Arabia. The Saudi government has made public statements condemning abuse of domestic workers. There also have been discussions to place domestic workers under separate labor laws.

Varia says discussions and rhetoric are not enough; the laws must change.

"There needs to be much greater efforts to punish abusive employers and to protect workers," she says. "What will really matter is if domestic workers get the same rights as all other workers in Saudi Arabia."