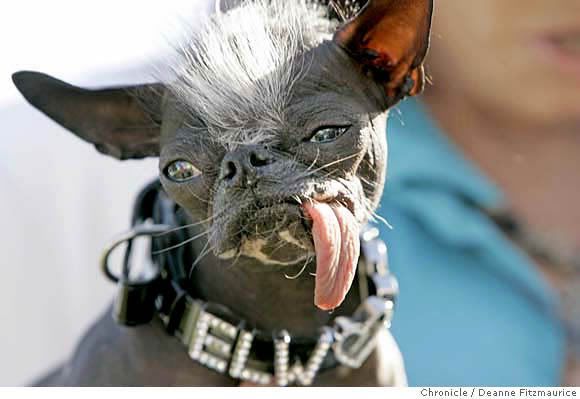 Elwood, Chinese-crested/Chihuahua mix, was crowned the World's Ugliest Dog
Canines from all over flock to Petaluma to vie for dubious honor of being named the World's Ugliest Dog at Sonoma-Marin Fair
SF Chronicle reports:
The dogs came to Petaluma with looks that define their celebrity status -- in large part so their owners could prove their pets aren't defined by those looks.
The comedian and animal rights activist from southern New Jersey wanted to promote a message of tolerance. The punk-rock type from Philadelphia, complete with mohawk and skull-logo T-shirt, came to support animal charities.
But they all had one thing in common: a desire for their genetically unfortunate pooch to be crowned the World's Ugliest Dog.


The anti-beauty contest, an increasingly popular event at the Sonoma-Marin Fair, celebrates physical repulsiveness -- and inner beauty.

Elwood, the Chinese crested-Chihuahua mix from Jersey, was crowned the World's Ugliest Dog after holding off challenges from previous winners.

He sports a mohawk, a scrunched face, a droopy tongue and Yoda ears that make him a natural funny guy.

What these dogs lack in looks -- and that's a whole lot -- they make up for in personality.

"You see him and you can't not laugh," said Elwood's owner, Karen Quigley. "He's funny. He's funny-looking. And that's the first instinct, but when you get past that, he has a very loving personality."



That's the foundation of camaraderie among the owners, who bring their unattractive darlings to the competition, which has taken place at different Petaluma venues since 1976, for a shot at up to $1,600 and a 4-foot trophy.

Winners from the purebred and mutt divisions are chosen by a handful of local celebrity judges, and the 2007 winner was selected from those two. Elwood then went on to challenge previous winners for the world title.

None of the dogs appeared especially aware of the ramifications of participating in, or even passing, the pre-qualification round, established because too many wannabe participants were not "legitimately ugly dogs," fair spokeswoman Bethrenae Tribble said.

For Rascal, the 2002 winner from Sunnyvale, the competition was just one more stop in a list of high-profile appearances. Ugly runs in the bloodline of the purebred Chinese crested, a lapdog who is hairless save for the squiggly white mane on his head. His grandfather earned the title seven times, and his mother and grandmother have won, too.

Not a surprise, given that owner Dane Andrews has been participating in the competition since 1979. Rascal first found fame with an appearance on the "Tonight Show" with Jay Leno before winning World's Ugliest Dog in 2002, a victory that shocked the doting Andrews.

"I guess I should have had a hint when they had him on Leno that he was that ugly, but I don't really find him ugly at all," Andrews said.

Passers-by, on the other hand, often balk, grimace or laugh -- all common reactions to most of these dogs.

PeeWee Martini, the 2-year-old Chinese crested-Japanese chin mix from Philadelphia, made his second appearance at the anti-beauty battle Friday after coming in second last year. His contorted nose and hanging tongue, which earned him "ugliest face" in judges' comments last year, often prompt strangers to ask what illness he has or if he was hit by a car.

But as with many of his opponents, PeeWee's genes are at fault for the warts, the snorts and the three random hairs sticking off his tail.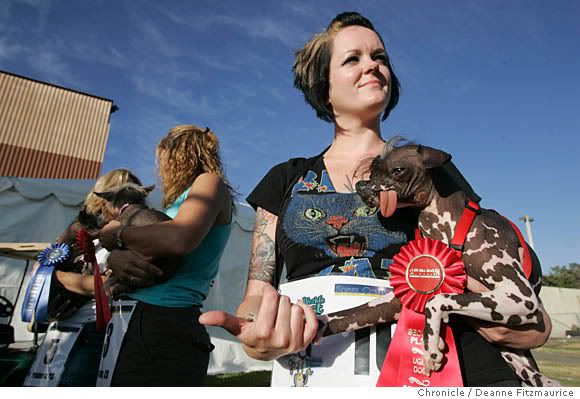 Kristen Maszkiewicz holds 2-year-old PeeWee Martini, who won second place in the World's Ugliest Mutt category.

Karen Nau, vice mayor of Petaluma and a contest judge, said Elwood's personality propelled to him victory over the others.

"It was almost like a caricature," Nau said, "like one of those cartoons."

Quigley, Elwood's owner, called it "sweet satisfaction" that the dog was being rewarded for his ugliness after being saved from a breeder who wanted to have him killed because he was so unsightly.