Conspiracy Charges Dismissed Against Tom DeLay in 5-4 Ruling By All-Republican Court In Texas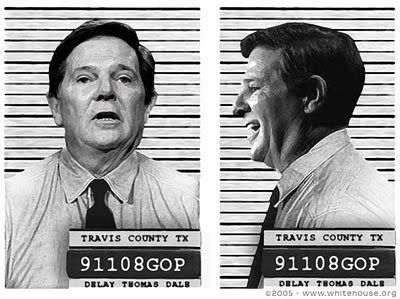 McClatchy reports:
Former U.S. House Majority Leader Tom DeLay and two associates won a big legal victory Wednesday when the state's highest criminal court ruled that they had been improperly indicted on charges of conspiracy to violate the Texas election code.

The 5-4 ruling by the all-Republican court upholds decisions by lower courts that the men had been accused of violating a law that was not on the books when the action was said to have taken place. The ruling, however, leaves intact indictments accusing DeLay and associates John Colyandro and James Ellis of money laundering and conspiring to launder money.
But DeLay, now a consultant in Washington, was quick to hail the ruling as a vindication of his long-held claim that he was the victim of a political witch hunt by Democratic District Attorney Ronnie Earle of Travis County.

"Ronnie Earle's politically motivated indictments cost Republicans the leader of their choice, and my family hundreds of thousands of dollars in legal fees," DeLay said in a statement. "The damage he has done to my family and my career cannot be rectified, but the courts have recognized a significant portion of the injustice and ruled accordingly.

"What Ronnie Earle accomplished is no rookie error -- it's a political attack using our legal system as the primary weapon."

Earle said the Texas Court of Criminal Appeals appears to have missed the mark.

"Under the rationale of today's majority opinion, the Legislature has blessed these criminal conspiracies as long as the felony they agree to commit is not in the penal code," he said. "Of course, it is illegal for them to actually commit the crime, but they can legally conspire to do it all they want. This is a tortured result."

The legal case against the once-powerful Texas Republican stems from his efforts in 2002 to end the Democrats' generations-long control of the Texas House. He was accused of improperly soliciting and accepting corporate money to help the campaigns of House GOP candidates.

Republicans swept to power in the House that year and completed the GOP takeover of every branch of state government. That allowed Republicans to redraw Texas' congressional districts in 2003, resulting in a GOP majority in the state's Washington delegation for the first time since Reconstruction.

The legal battle forced DeLay, a 21-year Washington veteran, to give up his powerful leadership post in Congress and then quit Texas politics altogether and move to Virginia before the 2006 election.

DeLay's seat was won by Democrat Nick Lampson, one of the congressmen ousted by redistricting.

DeLay and his two co-defendants are accused of illegally funneling $190,000 in banned corporate money into the 2002 elections to help Republican candidates. The three, through their attorneys, had argued from the outset that the charge of conspiring to violate the election law was bogus because no such law existed at the time. Their view prevailed in the criminal appeals court decision.

But Judge Cathy Cochran dissented, arguing that "any felony offense is subject to the Penal Code conspiracy provision."

"Thus, a person may be prosecuted for conspiring to commit any felony offense, whether that felony is defined in the Penal Code or elsewhere in Texas law," Cochran said in her written dissent. "The plain language of the conspiracy statute requires this result."

But Judge Mike Keasler, writing for the court's majority, said that for Cochran's argument to hold sway, the Legislature should have written the law to explicitly say as much.

Still pending against DeLay, Colyandro and Ellis are two charges of money laundering and one charge of making illegal contributions of corporate money.

DeLay said he is eager for the courts to settle those indictments.

"For nearly two years I have been willing and eager to go to trial," he said. "And with this ruling, we are thankfully closer to that day."

Read University of Texas School of Law's Professor George Dix's op-ed on the charges against DeLay and his associates.