. . . . Who's presiding over Cabinet meeting? Cheney?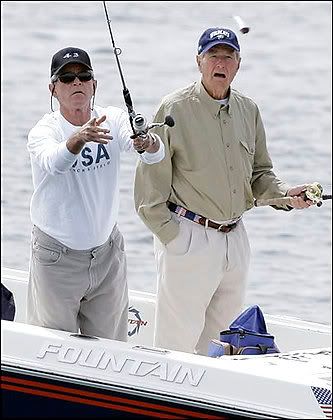 Bush, left, casts as his father former President George H.W. Bush watches as they fish near Kennebunk, Maine, Friday, June 29, 2007. (AP Photo/Robert F. Bukaty)
The AP reports:
In the aftermath of the London bomb discoveries, the U.S. government asked Americans to be vigilant about suspicious activities.
Officials on Friday said they don't see any specific signs of a terrorist threat in the U.S. ahead of the Fourth of July holiday.
Homeland Security Secretary Michael Chertoff said there are no plans to raise the U.S. national threat level, which was currently at yellow, or elevated.
A Cabinet-level meeting was called Friday at the White House to discuss the developments in London.
President Bush was briefed at his family home in Maine, where he'll meet Sunday with Russian President Vladimir Putin.
White House Homeland Security adviser Frances Townsend told Bush by phone what British officials had learned about the bombs.
Bush spokesman Tony Snow said officials with the CIA, the FBI and other agencies have been in touch with their counterparts in London.
Snow said British authorities haven't yet been able to determine if there's a link to any terrorist group.