Laura Bush Pitches For The GOP: "For Bush's birthday, a gift for the whole Party"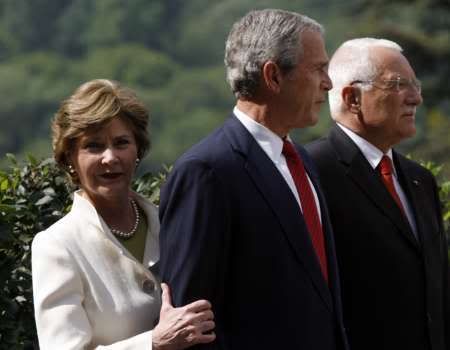 This time, they're not breaking the law, but breaking with tradition. What's wrong with this?
USA Today reports:
If it's birthday time for a politician, say it with money

Republican Rudy Giuliani held a round of birthday fundraisers in New York last month. Bobbie Edwards promised her special pecan pie recipe to anyone who contributed $6.10 for the June 10 birthday of her son, Democrat John Edwards.

Well, someone else's birthday is coming up, and our USA TODAY colleague Kathy Kiely passes along the latest e-mail solicitation. The Republican National Committee has enlisted Laura Bush to make the pitch.

The first lady asks Republicans to sign an e-card to President Bush, who turns 61 on July 6. Also, she writes, "please consider commemorating President Bush's 61st birthday with a gift our entire Party can share." Suggested gift: $61.

Republicans have slipped in fundraising since the Democrats swept Congress last fall. Democratic party committees have seen jumps, meanwhile, and Democratic candidates for president have so far outraised their Republican counterparts.

What's wrong with it is that it's unseemly.

Once elected to the office of the president, the president becomes the leader of all Americans, and his spouse, traditionally, dedicates her energies to apolitical charities and causes that improve the lives of all Americans, and not the political fortunes of one party over another.

Laura Bush has managed to retain high likeability ratings because she's remained an enigma. People have no idea who she is or what she thinks and believes. The only marks against her are for marrying George W. Bush (for which she is given sympathy, "poor dear, what she's had to endure") and having raised two aimless daughters with drinking problems ("all kids are like that" "mistakes of youth") - something for which she gets more sympathy, for bearing it with "such poise."

Laura Bush's high approval ratings are, literally, skin-deep. A demure demeanor, conservative clothing, hair and make-up, never expressing an opinion or point of view, she's a blank slate upon which people can project almost anything that's generally positive.

I've always believed her more knowledgeable and supportive of her husband's ideology and politics than she's let on. It's one thing to marry a hard-drinking George W. Bush when you're 31 years old after a 3-month courtship; it's another thing entirely to remain married to him. She wanted to be there, through years of infertility, through years of his bad and boorish drunk behavior, through his inability to succeed in business. She is George W. Bush's partner in every way, and should share whatever condemnation is heaped on him. Perhaps even a bigger share of the condemnation, for if, as George W. Bush claims, Laura was influential in his decision to stop drinking, she unleashed an able-bodied George W. Bush with extreme political ideology and radical plans to implement his politics all over the world.

Laura Bush's ideology and politics, her husband's ideology and politics, Big Corporate's fascistic ideology and politics and the evangelical Christian far-rightwing's ideology and politics are one and the same.