Now that the `Osama Bin Laden is dead' story has fizzled, and all that is left to discuss are the conditions in the U.S. and the staggering incompetence and corruption of the Bush administration and the Republican party, CNN is in Romania. CNN is trying to whip up an American audience for the problem of abandoned physically and mentally disabled children in Romanian orphanages.


Here's a story for the American audience:

Army explores issue of living wills as more return from war in comas:

A growing number of troops are returning from Iraq and Afghanistan with severe brain damage, prompting the Army to examine whether living wills or other care directives from soldiers ought to be available to battlefield doctors.

The issue was raised this summer by wounded soldiers and families of casualties during a symposium sponsored by the Army's Wounded Warrior Program.

"With technology as good as it is, they can keep that soldier alive, but they can't put their hands on a digitized piece of paper" containing a do-not-resuscitate order, says Ed Salau, a former Army lieutenant who lost his left leg during combat in Iraq. He was one of 40 people at the June symposium.

The Army say it plans more symposiums to hear from wounded soldiers and their families, but it makes no promises about what steps it might take.

From January 2003 through July, the Pentagon identified at least 250 troops who returned from war with head wounds that left them — at least initially — comatose or unable to care for themselves or respond to people. Brain injuries, most from roadside bombs, are the signature wound of the Iraq war.

The number is a small part of the 20,000 troops wounded in Iraq and Afghanistan, but it is "unprecedented," says Dale Smith, professor of medical history at the Uniformed Services University of the Health Sciences in Bethesda, Md. "All of these (comatose) people died in former wars before they got home."

Troops can fill out living wills instructing doctors to withhold care. Those at the symposium recommended that troops be better educated about the process and that the wills be accessible to doctors.

Today, field surgeons unaware of last wishes say they often keep soldiers with crippling brain injuries alive and fly them to the USA. That allows families a chance to get closure and to make decisions about organ donation, says Brett Schlifka, an Army neurosurgeon. It also might leave relatives to decide whether to withhold life support.

Not every family member favors a move toward living wills. Sarah Wade, whose husband, Ted, suffered a major head injury from a roadside blast in Iraq in 2004, says she has mixed feelings. If her husband had a living will, he might have directed doctors not to take the steps that saved his life, she says. Since he was sent back to the USA, his condition has improved, she says. "I'm leaning against it," she says of giving combat surgeons access to do-not-resuscitate orders.

Army Col. Mary Carstensen, director of the Wounded Warrior Program, says the concerns raised at the symposium are being sent to appropriate offices within the Army, Pentagon and Department of Veterans Affairs.

"There was so much emotion behind each one of these issues that we know we have to do something," she says.

Care directives and living wills are not discussed with our fighting men and women in the military before they are sent into battle?? In a business where it's not "Are you willing to fight for your country?", but "Are you willing to die for your country?"

Don't you think that Bill Frist and the Bush brothers should weigh in on this? I would think that Randall Terry's group would want this publicly debated, too.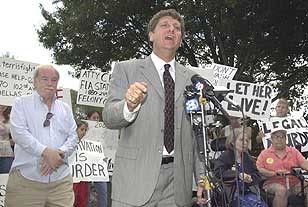 Come on, CNN, deliver to your audience.




Filed under: CNN-media-Romania-war-on-terror-election-2006-coma-military-veterans-affairs-health