Anybody who is still deluding themselves that even Bush's war in Afghanistan has anything to do with liberating oppressed people (it's
all
about oil), needs to read this.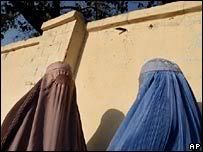 No 'Real Change' for Afghan Women
:
Millions of Afghan women still face discrimination, the report says
An international women's rights group says guarantees given to Afghan women after the fall of the Taleban in 2001 have not translated into real change.

Womankind Worldwide says millions of Afghan women and girls continue to face systematic discrimination and violence in their households and communities.

The report admits that there have been some legal, civil and constitutional gains for Afghan women.

But serious challenges remain and need to be addressed urgently, it states.

These include challenges to women's safety, realisation of civil and political rights and status.

Self-harming

Womankind Worldwide sent a film crew to Afghanistan to investigate the situation of women there.

They found a young Afghan woman crying in hospital who said she wanted to die. She was recovering after setting fire to herself.

Womankind Worldwide says there has been a dramatic rise in cases of self-immolation by Afghan women since 2003.

When I am at home sometimes I feel as though someone is choking me
~Afghan woman

It believes many are the result of forced marriages, thought to account for about 60% to 80% of all Afghan marriages.

57% of girls are married before the legal marriage age of 16.

Domestic violence remains widespread.

At an Afghan women's shelter, a young woman told the film crew that she came to the shelter to forget life's troubles.

"I come here so I can ease the pain a little. When I am at home sometimes I feel as though someone is choking me," she told the film crew.

Womankind Worldwide says the Afghan authorities rarely investigate women's complaints of violent attacks.

Women reporting rape run the risk of being imprisoned for having sexual intercourse outside marriage.

Unfulfilled promises

Although women now hold more than 25% of the seats in the Afghan parliament, female politicians and activists often face intimidation or even violence.

Afghan women need international protection, the report says

"Women who are standing up to defend women's' rights are not being protected," says Brita Fernandes Schmidt of Womankind Worldwide.

"My message, really, to the international community is: you need to address specific security issues for women," she says.

"Women's rights activists are getting killed, women's NGO workers are getting killed, and that is not going to change unless some drastic action is taken," Ms Fernandes continues.

Womankind Worldwide says the international community needs to fulfill promises made after the fall of the Taleban to help protect Afghan women.

"Afghan women need international protection."

It says the international community should give women a greater voice in setting the aid and reconstruction agenda.

Until basic rights are granted to Afghan women in practice as well as on paper, the report says, it could not be said that the status of Afghan women had changed significantly in the past five years.
Liberty still eludes women of Afghanistan.
In a world besieged by violence and bloodshed, the death of a single individual rarely stands out in the news. There are too many names to record, too little psychic energy left to exert on the question of just who is being killed in those faraway lands where the United States says it is determined to impose order on chaos.

Yet Safia Ama Jan was killed late last month -- gunned down by assassins as she left her home for work -- and the world has a duty to take notice.

Ama Jan was a 65-year-old grandmother, and a quiet powerhouse of a woman in Afghanistan's poverty-stricken south. During the Taliban's oppressive rule, she ran an underground school for girls. After the U.S. invasion and the reconstitution of an Afghan government based on democratic principles, Ama Jan became a provincial director for the Ministry of Women's Affairs in Kandahar. That is, apparently, what made her such an inviting target -- despite having covered herself beneath a burqa when she ventured outside her home. The Taliban took credit for the murder.

The fifth anniversary of the U.S. invasion to avenge the terrorist attacks of Sept. 11, 2001, and overthrow the Taliban just passed, overshadowed by the latest congressional scandal. The White House staged no celebratory show to declare this mission accomplished. Perhaps that's because it isn't.

The Taliban has re-established itself through much of southern Afghanistan, filling a void that the Afghan government and international observers long complained had been left as the U.S. military and its allies refused to extend their control there. For years, there has been little security outside the capital of Kabul. Regional warlords and militias operate with impunity and the illicit poppy crop for opium grows.

Amid even these grim assessments, few recalled the lavish attention the American government once paid to the dire circumstances of Afghanistan's women. Liberating them from the Taliban's violent yoke, we were told, was an essential part of the American mission. The political theater promoting the idea was rich. Because of the American military successes, First Lady Laura Bush said in a radio address of Nov. 17, 2001, "women are no longer imprisoned in their homes. They can listen to music and teach their daughters without fear of punishment." Soon afterward, the White House showcased women's rights activist Sima Samar, seating her in the House gallery for the President's 2002 State of the Union speech.

That was then. This is now: "The situation of women remains dramatic and severe violence against them all-pervasive," Yakin Erturk, the United Nations special envoy for violence against women, reported in February. "Reports of kidnappings and rape of women by militia and warlords continue to be widespread to the present day, including cases of executions by local councils. Thus, the rule of power rather than the rule of law continues to be the norm in Afghanistan."

Despite the development of what is supposed to be a contemporary justice system, ancient custom -- backed by threats of violence -- determines the course of women's lives. Girls are sold into marriage as young as 6 or 7. Local councils can order that women and girls be ceded by one family to another to settle a dispute. Widows are perceived as the property of their in-laws. Often, they're forced to marry a brother-in-law even if he already has a wife.

Violence inside the home is epidemic, the U.N. report says. It is believed to be at the root of increasing attempts by women and girls to commit suicide by setting themselves on fire. And what of the schools we Americans brag to have reopened? Despite progress since 2002, primary school enrollment is among the lowest in the world, the U.N. says, and only half as many girls as boys are in school.

These were the concerns of Ama Jan, the causes for which she gave her life. The Afghanistan Independent Human Rights Commission says the slaying calls into question the credibility of claims by both the Afghan government and the international community that they are protecting women.

No external power, not the United States nor any other, can quickly undo what centuries of oppression and decades of violent conflict have done to Afghanistan's women. Yet this is what we promised, out of good will or the desire for a good public-relations gambit, take your pick. Now that we seem to have walked away from the commitment, our credibility has been buried alongside Ama Jan.
Afghan Women Lack Access to Contraceptives, Still Need Basic Healthcare
Only 10 percent of married Afghan women ages 15 to 49 use a form of contraceptives. Afghanistan has one of the highest maternal and child mortality rates in the world, and experts hope that increased use of family planning techniques will extend women's life expectancy. In Afghanistan, a woman dies giving birth every 30 minutes, according to the St. Lois Dispatch.

The United States Agency for International Development (USAID) started a program two years ago that dispenses highly subsidized contraceptives to women in 13 rural Afghan provinces in markets and hundreds of clinics and hospitals. While the USAID program is said to have increased family planning methods, Afghan women still lack access to basic reproductive healthcare. In its study of the Afghanistan's Herat Province, Physicians for Human Rights found that only 1 percent of women have a trained health care professional present when giving birth, many of whom lack knowledge of how to handle even the most basic of birthing issues. Only 11 percent received prenatal care.

Greater work is needed to increase women's access to quality reproductive healthcare to lower the rate of maternal mortality. Said Dr. Lynn Amowitz, Senior Medical Researcher at Physicians for Human Rights, "The rate of maternal mortality in a society is a critical indicator of the health and human rights status of women in a community."
Afghan women denied literacy program amid fear of Taliban reprisals.
Bibi Emna is the mother of 15 children, 11 of them daughters.
Now in her early 40s, she has been having babies for most of the last 25 years in this ultra-conservative mud-walled village west of Kandahar.

None of her children are in school, she says. In fact, the village elders recently turned down a chance to have an internationally sponsored literacy program here.

"We are afraid of the Taliban," Emna said, surrounded by women who only take off their full-veil burkas deep within the cloister of earthen homes. Goats wander along the narrow foot paths in this time-forgotten enclave where most residents cannot read or write.

Several mothers and daughters gathered Monday for a rare visit with two female foreigners a short walk from where the provincial head of Afghanistan's Ministry for Women's Affairs was gunned down exactly five weeks ago.

Safia Ama Jan was killed Sept. 25 outside the front gate of her home in the community of 350 families on the western edge of Kandahar city.

Two gunmen on a motorbike opened fire on Ama Jan, a renowned critic of the Taliban. She was headed to work early that morning. Her murder was apparent retribution for her efforts to help educate women, officials said at the time, and it remains unsolved.

Ama Jan was a vocal promoter of women's rights in this former Taliban stronghold where insurgents have killed or threatened dozens of local people in recent months.
Canadian military and development officials stress that about six million Afghan children, roughly one-third of them girls, have returned to school since the Taliban were chased from power in 2001.

But the Islamic militia is re-energized and eager to preserve the most traditional parts of the country. It's all part of the daunting maze of power and politics that can stymie or delay even the best intentioned development efforts here.

Emna says she would like her children to go to school. Still, life today is better than under the Taliban five years ago because she can at least earn some money sewing, she said. Her village got funding through a Canadian supported program for 25 sewing machines, some material, patterns and training.

The women can now make enough cash selling clothes, some of them intricately detailed, to help feed their families.

"We are poor people," says Emna, her hands red with the henna dye Afghan women use to accentuate their hair, hands and feet, especially for special celebrations such as weddings.

"We buy sugar and flour."

At another sewing circle in the heart of Kandahar City, this one also sponsored by the World Bank-administered program, 20 women in head scarves vigorously debate whether to have their photo taken with faces covered. The consensus? It would not be a good idea.

There is still intense social pressure on women here to be modest, private.

Outside movement is less restricted than under the Taliban but still, "women are afraid," says Aziza, a United Nations monitoring and evaluation assistant.
"We work inside the house. We don't go outside."

She is asked why so many women are still wearing burkas five years after the Taliban were conquered.

There are many foreigners in Kandahar now, she says, and suicide bombings are a constant threat. Fear is a fact of life here, and it's important to keep a low profile. Many women rarely venture beyond their front door, she says.

"We feel free when we are hiding."
Filed under: Taliban, Taleban, Taleban, reasons not to vote for Republicans, Afghanistan, Republicans, Bush, The Constant American, Constant American, Technorati Tag, Technorati Tags, tags, categories