Bush and the GOP gave tax cuts to their supporters, the richest of the rich, all the while lying to the residents and workers in lower Manhattan about the safety of the air they were breathing
:
In addition to the emotional trauma they faced after the World Trade Center attacks, students who went to schools in Lower Manhattan say they are also facing respiratory problems, and now they also want the federal government's help.

Current and former students were told it was safe to return to class after September 11th, and they did, exposing themselves to the same toxic air inhaled by first responders.

"They were minors during 9/11; they had no options. They were ordered back to school because the EPA said that the air was safe, and they had no ability to say yes or no," said Manhattan Borough President Scott Stringer. "And now we're finding out that it may be that some of these children are going to come down with very serious illnesses."

"A major driver of lymphoma is being exposed to excessive amounts of toxins pollutants, which is exactly what we inhaled when we were down here after September 11," said former Stuyvesant High School student Amit Friedlander, who was recently diagnosed with Hodgkin's Lymphoma. "So I think, whether or not my cancer came from September 11, there definitely will be a lot of people who will be getting sick."

The families are calling on the federal government to provide money for medical screening and health insurance for the students.

Students and teachers began getting sick one month after the WTC were hit and collapsed:

New York City Board of Education officials are at loss to explain headaches and breathing problems among dozens of students and teachers at Stuyvesant High School, located in shadow of collapsed World Trade Center, since classes resumed week ago; Chancellor Harold O Levy says daily air-quality tests have detected no harmful pollutants at any level that should be of concern; says only potential problem is mildly elevated levels of carbon dioxide.

We know now that this wasn't true - harmful pollutants were not only detected, they were measured in alarming amounts. Christine Todd Whitman, head of the EPA, and the Bush administration lied and hid the test results from New Yorkers.

Stuyvesant High School, founded in 1904, is one of, literally, a handful of special public schools in NY for intellectually gifted students. Specializing in math and science, admission to Stuyvesant is by competitive examination and tuition is free.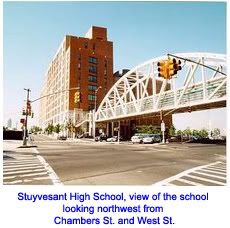 Stuyvesant is noted for its many accomplished alumni, its rigorous academics, and for sending the most students to Harvard, Yale, and Princeton of any public school in the United States. These are not `legacies,' like George W. Bush.

Stuyvesant has contributed to the education of several Nobel laureates, winners of the Fields Medal and the Wolf Prize, and a host of accomplished alumni. It consistently leads the nation in number of National Merit Scholarships as well as Intel (formerly Westinghouse) Science Talent Search Semi-Finalists and Finalists. Stuyvesant sends nearly all its students off to four-year universities and around 30 percent go on to the Ivy League.

Stuyvesant graduates earn an average SAT score of about 1400 (685 verbal, 723 math). Stuyvesant also was the high school with the highest number of Advanced Placement exams taken, and also the highest number of students reaching the mastery level.

Children are required to be in school and have a right to a safe environment. No child, no person, in the U.S. should have had their government lie to them as happened here. That it happened at Stuyvesant, to focused students with such ability and promise, puts a personal face on the further insult that our government inflicted on Americans after the initial devastation of 9/11/01.

Technorati Tags: Technorati Tag, Technorati Tags, tags, categories, Conservatives, Republicans, Bush, air quality, WTC, Christine Todd Whitman, Bush, tax cut, New York, NYC, public education, 911, September 11, EPA, health, environment, The Constant American, Constant American