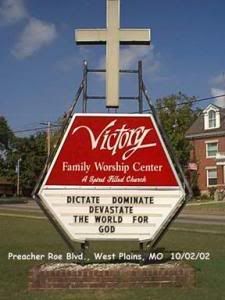 The top US general defended the leadership of Defense Secretary Donald Rumsfeld, saying it is inspired by God
:
"He leads in a way that the good Lord tells him is best for our country," said Marine General Peter Pace, chairman of the Joint Chiefs of Staff.
I'm reminded of what David Kuo, author of
'Tempting Faith'
, had to say about Republicans pandering to the religious right: he and fellow Christian Mike Gerson (now Bush's top speechwriter) wrote political speeches designed to appeal to religion audiences, even when the speakers did not want to give those speeches. Jack Kemp, for one, removed religious values language from a speech he was to give to the Southern Baptist Convention. So instead Gerson and Kuo snuck in a few phrases that evangelicals would recognize but laypeople would not. It was a code that would continue to be used in speeches over the years by politicians, including John Ashcroft, Ralph Reed, Bob Dole and George W. Bush.
Rumsfeld is "a man whose patriotism focus, energy, drive, is exceeded by no one else I know ... quite simply, he works harder than anybody else in our building," Pace said at a ceremony at the Southern Command (Southcom) in Miami.

Rumsfeld has faced a storm of criticism and calls for his resignation, largely over his handling of the Iraq war.

But he got a strong show of support from the military establishment at Thursday's ceremony, where Navy Admiral James Stavridis took over Southcom's command from General Bantz Craddock.

"He comes to work everyday with a single-minded focus to make this country safe," said Stavridis who was a senior aide to Rumsfeld before taking on the Southcom job.

"We're lucky as a nation that he continues to serve with such passion and such integrity and such determination and such brilliance," said Stavridis, 51.

As head of Southcom, Stavridis will be responsible for military cooperation with Latin American countries, and will be in charge of the Guantanamo US military base in Cuba where more than 400 "war on terror" detainees are being held.

Craddock, who was named supreme commander of allied forces in Europe, hailed the role Southcom has played.

"Today I believe that we can say we were successful in our efforts and contributed to ensuring our nation's security through support on the global war on terror, and encouraged regional cooperation to enhance the security and stability in the region," he said.

Doesn't "He leads in a way that the good Lord tells him is best for our country" sound like it's straight out of a Christian hymn?

Is the Bush administration using the military in the political process, to campaign on behalf of Republicans in the upcoming mid-term elections? I'd almost welcome that, over Pace believing that he was "on a mission from God."

Filed under: Peter Pace, separation of powers, church and state, separation of church and state, Joint Chiefs, U.S. military, election 2006, elections, Bush, The Constant American, Constant American, Technorati Tag, Technorati Tags, tags, categories