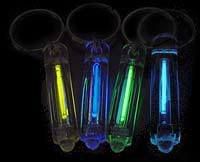 No? You weren't supposed to. Proponents of nuclear energy have gone to great lengths to keep it quiet, although
they've known of the problem for years
:
The story started when local officials learned that tritium leaked from the Braidwood plant onto private property. The leaks occurred in pipelines that were supposed to carry tritium, a byproduct of nuclear power generation, to the Kankakee River.

County officials were furious that they hadn't been informed of the leaks, which had taken place in 1996, 1998 and 2000. A lawsuit was filed and Exelon has agreed to a remediation plan.

Since then the company has: installed alarms on its blowdown lines, pumped water out of a contaminated pond and provided bottled water to area residents.

A new state law requires notification within 24 hours of any future leaks of radioactive material.

Imagine that, a law requiring notification. In "Bush-land," leaks, discharges, polluting is on the honor system - voluntary. It's also true in "Dale Klein-land," the new chairman of the Nuclear Regulatory Commission.


Also, the company has agreed to pay for a feasibility study on a new water system for Godley. While tritium levels in area wells do not exceed federal safety standards, there were elevated levels of coliform and nitrates, which can be harmful to humans.

This is not true. The exposed residents are outraged about what the leaks have exposed their families to. The Exelon Corporation behind these leaks have betrayed a public trust and have no business in the business.

Different news organizations' accounts have tried to downplay the problem - some news organizations have outright neglected to report the numbers of wells that dangerous levels of tritium has been found in. Some newspapers have treated it as "no big deal," when it's obvious that they don't know what the hell they're talking about.

What isn't leaking naturally is being dumped accidentally through carelessness.

Klein, new to the job as NRC's chair and a true Bush-Cheney supporter, wants to speed up the licensing process for nuclear plants:

Nuclear Regulatory Commission chair Dale Klein "said he supports the 'groundwater protection initiative,' a self-policing effort proposed in May by the Nuclear Energy Institute trade organization. 'I think as a nation we need to be cautious about putting unneeded regulations in place,' Klein said." He spoke at the Braidwood nuclear power plant in Illinois, "where tritium in groundwater spread beyond plant boundaries, sparking state and federal legislation, three lawsuits and an Exelon cleanup effort being monitored by state and federal agencies." Tritium contamination of groundwater has been found at at least 10 U.S. nuclear plants, most recently Wisconsin's Kewaunee and California's defunct San Onofre plants. Tritium is a low-energy nuclear isotope readily cleared by the body, though in high concentrations it has been linked to cancer and birth defects.

The problem is not isolated to Illinois (or Iowa, or California, or Wisconsin or Pennsylvania):

The Tennessee Valley Authority's three nuclear power plants have leaked a radioactive form of hydrogen called tritium into the groundwater, according to TVA documents and Nuclear Regulatory Commission officials.
Filed under: environment, tritium, health, NRC, Nuclear Regulatory Commission, nuclear waste, energy, reasons not to vote for Republicans, Dale Klein, Tennessee Valley Authority, Bush, The Constant American, Constant American, Technorati Tag, Technorati Tags, tags, categories