Bush signed another tax cut bill today. A $70 billion giveaway to his base, the richest 1% in America. And this house, the most expensive "home" for sale in California, went on the market. Asking price? $75 million.
The Orange County Register reports
:
[video]The 30,000-square-foot custom-built estate belongs to Frank Pritt, founder of software company Attachmate Corp. The estate features a car museum, entertainment complex, gymnasium and mini water park. A pool on the upper deck includes a whirlpool spa in the center with a clear, plastic bubble on the bottom, so people below can see into it like an aquarium.

A 360-degree tunnel slide loops from the second level into the pool below.

"It's a trophy home," said Carrie Williams, media director for the McMonigle Group, which listed the estate for sale. "It's secure and private -- for a celebrity, sports star or someone of that ilk."

This "modern Corona del Mar beauty features state-of-the art electronics, a water treatment system, three pools, two spas, eight bedrooms and 10 bathrooms. Oh, and a bowling alley, vintage movie theater, café, gymnasium, auto museum, wine cellar behind a bank-vault door and just under an acre of beachfront land."

That makes Portabello, the name that owner gave it because its curving white roof resembles the portobello mushroom, one of the three most expensive residences currently for sale in America, and the most expensive in California. The other two are: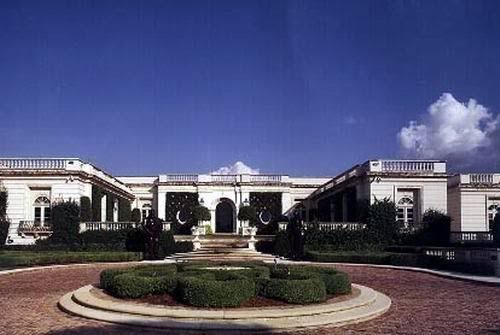 Donald Trump's Maison de L'Amitie in Palm Beach, Fla., is going for $125 million.








Three Ponds Farm Estate in Bridgehampton, N.Y., is the most expensive home in the U.S., according to Forbes.


"It's not surprising because (Orange County) is a world-class destination," said Rick Goodwin, publisher of Ultimate Homes magazine, which documents the 1,000 most-expensive homes for sale. Orange County, like Palm Beach and the Hamptons, is "where people with money want to be."

County property assessors estimated that the house alone is worth at least $16 million and the land is worth more than $13 million, for a total assessed value of $29.6 million, highest residential assessment in the county. But because of Proposition 13, tax assessments usually are well below a home's market value.

John McMonigle, the real estate agent signed to market the home, said the price tag is based on the estate's replacement cost: Around $45 million for the land and about $33 million for the home, at $1,500 per square foot.

The neighborhood is home to some of Orange County's wealthiest residents, including Broadcom Corp. co-founder Henry Samueli.

"I'm very confident we'll sell it, and I'm investing a significant amount of money in that belief," McMonigle said. "We're receiving quality interest already."

Interested buyers include local high-tech moguls and a European financier.
...
Goodwin said the highest price ever paid for a home in the United States was $70 million. The Associated Press reported a California record-topping $50 million. And county records show that at least $29 million was paid for a home in Laguna Beach.

"It's really like selling a piece of art," Goodwin said. "What makes it special, on top of all the bells and whistles, is its three oceanfront lots in one of the most expensive waterfront areas of the country."

The record U.S. home sale price was posted two years ago when Ron Perelman sold his Palm Beach, Florida, home for $70 million, according to the National Association of Realtors:

[Dwight] Schar's purchase was somewhat complicated, consisting of three deals, according to recent reports on the deed transfers. He paid $45 million for Casa Apava, a historic ocean-facing mansion on six acres owned by billionaire Revlon boss Ron Perelman and his wife, actress Ellen Barkin. He paid an additional $18.6 million for a boathouse on a lakefront lot across the street. And he reportedly shelled out another $6 million or so for furnishings and fixtures.

The 26,000-square-foot main house includes seven bedrooms, 18 bathrooms and a movie theater. There's an oversized outdoor pool, a pool house, several guest houses, a spa, an updated gym and what the New York Post described as a "walk-in humidor for [Perelman's] priceless cigar collection."

By buying both the main house and the lot across the street, Schar got an ocean-to-lake domain.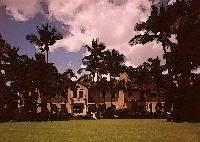 Casa Apava, Ron Perelman's former home, and now Dwight Schar's property, site of George W. Bush and Republican fundraising parties.


The world's most expensive cars to go into the garages of the world's most expensive homes.

Something is very wrong in America.

Technorati Tags: Technorati Tag, Technorati Tags, tags, categories, Dwight Schar, Casa Apava, Henry Samueli, Broadcom, Three Ponds Farm Estate, Maison+de+L'+Amitie, Donald Trump, Attachmate, Attachmate Corp, Frank Pritt, $70 billion, tax cuts, Bush tax cut, Ellen Barkin, Ron Perelman, western culture, conspicuous consumption, The Constant American, Constant American