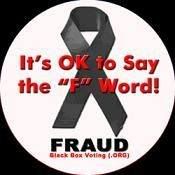 A
dry run
for the coming midterm elections this November:
More than 100 voting machines are reported to be broken across the city, the Daily News has learned.

Apparently, the machines were broken when polls opened this morning -- they keep spitting out the paper tape that keeps the tally of the vote. It is the largest breakdown since we started using the new voting machines.
The broken machines were first reported in the weblog for TheNextMayor.com. Expect more on this story in tomorrow's Daily News.
ABC is reporting:
The election has been marked by some significant problems with voting machines. And both voters and candidates have been trying to deal with the frustration. Sixty-two Pennsylvania counties are debuting new voting machines today. Philadelphia is not one of them, but that's where the problems are.

The city has about 3,600 voting machines in use for today's primary vote. The biggest problems have been at voting locations where multiple failures have been reported.

Ward 12, Division 20 in Germantown is one such location. Judge of Elections Bernard Bibbs followed the routine startup procedure, but neither machine would activate. In one case, the write-in paper tape just unrolled and then refused to roll back up. In the other case, the machine will only beep and do nothing else.

Bernard Bibbs/Judge of Elections: "We set them up the way they're supposed to be run electronically. They've been shut down all morning.... We're dead."

Similar problems have popped up across the city. Machines by the score have failed to operate. In most places, at least one machine is functioning. In those places where all the machines are down, voters can request a paper ballot.

Edward Schulgen/Deputy City Commissioner: "Give that voter a paper ballot, which is then sent to us after the election. We verify whether or not that person is registered in the right division. If that's correct, then we count that vote."

The number of failures seems to be evenly distributed across the city. It's more voting machine failures than the city has ever had before.

These machines went online about 5 or 6 years ago and have never had any serious problems before today.

This is exactly the situation that Greg Palast has written about, how the Republicans intend to steal yet another election. Republicans want to get as many Democratic votes as they can onto provisional ballots, where they can more easily not get counted.

Filed under: Philadelphia, Republicans, Democrats, politics, primary, electronic voting machines, election reform, Greg Palast, elections, election 2006, Pennsylvania, The Constant American, Constant American, Technorati Tag, Technorati Tags, tags, categories