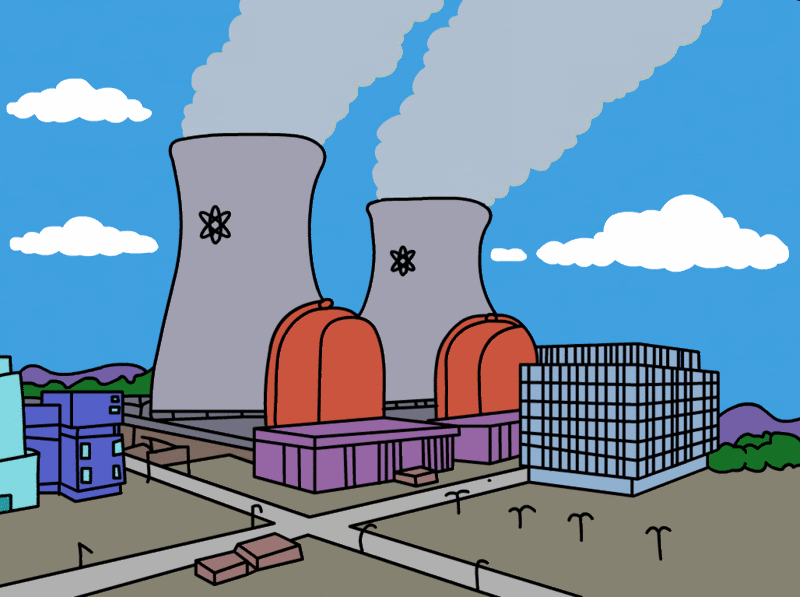 The Trojan Nuclear Plant's cooling tower (499 feet tall, concrete and steel weighing as much as an aircraft carrier), that took a year to build and cost more than $10 million came down on Sunday morning in about 10 seconds. Northwest Cable News carried it live.


The northwest's failed nuclear experiment:

Trojan was once billed as the model for 20 nuclear plants to be built in the Northwest. The financial collapse of Washington's nuclear-plant builder — famously known as "Whoops" — ended all that; just one working plant, at Richland, is left. Two partially finished plants at Satsop are now part of a business park.

Trojan went online in 1976 and in its heyday cranked out enough power to light Portland. It held sway over the region's imagination and is believed to be an inspiration for the Springfield plant in Portland native Matt Groening's TV series, "The Simpsons."

But Trojan was plagued by engineering, mechanical and political problems.

The cooling tower, a massive steam chimney, was never contaminated by radiation. The rest of the site was certified as safe and radiation-free last year. What's left of Trojan is being dismantled and cannibalized for its steel.
....
Anti-nuclear activist Lloyd Marbet, who was arrested several times at the plant's gates, plans to defy PGE again and watch in person with other former protesters. "I thought leaving the tower up would be a good reminder to the kind of arrogance that a utility or business can get into with a technology that is not proven."
....
Perched on a rocky outcrop of the Columbia River, Trojan fed the Bonneville power grid for 3,300 days. Its training control room was used in scenes in the classic nuclear-disaster film "The China Syndrome."

The plant temporarily shut down in 1978 when PGE realized it had been built on an earthquake fault. It was shut down again when cracks in the steam tubes were detected just four years into the plant's life.

Radioactive compounds were later detected in the Columbia River and a pond on the site, although not at unsafe levels. Both are now popular fishing spots.

The environmental problems galvanized opposition, leading to three unsuccessful ballot initiatives in Oregon to force closure. Six days after winning the last election, in 1992, PGE shut down Trojan because of more radioactive leaks. The utility decided it would cost more to replace it than to shutter the plant for good.

Decommissioning has cost more than $400 million, nearly equal to the original construction bill. The plant's reactor core was gingerly barged upriver and buried at Hanford in 1999. Thirty-four spent nuclear fuel rods remain at Trojan in 17-foot-tall steel-lined casks. The rods will stay put until they can be moved to Nevada's Yucca Mountain nuclear-waste dump — when it opens.

David Lochbaum, of the nuclear-safety group Union of Concerned Scientists, said he fears the Nuclear Regulatory Commission has inadequate security to protect the spent fuel rods. But the casks themselves are safe, he said.
....
The Trojan site now has what locals affectionately call the "glow-in-the-dark park." It's the fishing hole where radioactivity was found back in the 1980s.

Just when you thought that people were coming to their senses and realizing that nuclear power plants are a bad idea:

At least three energy firms have applications pending with the Nuclear Regulatory Commission for plants on the East Coast and in the South, according to the Nuclear Energy Institute. A co-founder of Greenpeace recently came out in favor of nuclear power. Congress included $600 million in nuclear-power-plant subsidies and loan-default guarantees in last year's energy bill.

Jack Riggs, a former energy official in the Clinton administration, said high fossil-fuel costs and concern about global warming are softening resistance. If Congress passes a "carbon cap" on energy emissions, nuclear power could return within 10 years, he said.

"I think there is still less than a 50-50 shot, but five to 10 years ago I would say none at all," said Riggs, an energy expert at the nonpartisan Aspen Institute in Washington, D.C.
The Aspen Institute is not bipartisan, but more accurately "establishment" (with a decidedly rightward tilt). It's heavily funded by big business and beats out all others when it comes to sponsoring travel for members of Congress.

"The climate-change concern has changed that, and the high price of natural gas."

Energy Northwest, Washington Public Power Supply System's successor, is not opposed to nuclear power but is looking at other types of generation first, spokesman Brad Peck said.

"What may seem unacceptable today may seem very acceptable in the future, if your options change," he said. "I think attitudes toward nuclear power are changing."

When citizens are given the facts about nuclear power, they reject it and favor alternatives.

Technorati Tags: Technorati Tag, Technorati Tags, tags, categories, reasons not to vote for Republicans, energy, Energy Northwest, Trojan nuclear power plant, nuclear power, Washington, Seattle, The Constant American, Constant American